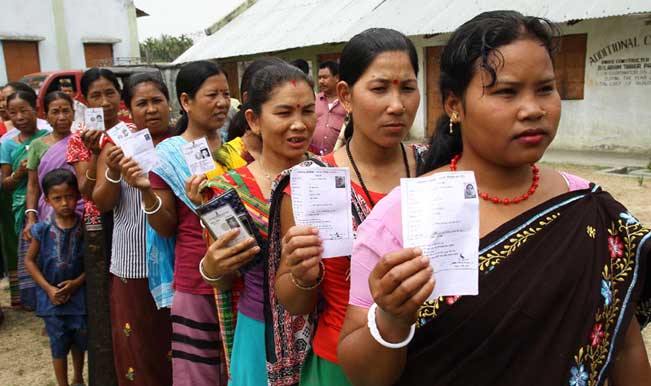 Imphal, April 9: Long queues formed Wednesday even before the start of voting in one of Manipur's two parliamentary constituencies and in the first four hours, around 30 percent electorate cast their ballots. According to election and police officials, balloting is taking place in tribal reserve Outer Manipur Lok Sabha constituency with no untoward incident reported so far.
In the Inner Manipur constituency, voting will be held April 17. "Around 30 percent voters so far cast their votes in the Outer Manipur constituency," an Election Commission official told reporters. He said: "Long queues were seen in most of the polling stations even before the voting started at 7 a.m. The balloting will end at 4 p.m."
In all, 911,699 voters, including 463,068 women, will elect one representative to the lower house of parliament from among the 10 candidates, including one women aspirant. The electorate are to cast their votes in 1,406 polling stations in Outer Manipur constituency.
The ruling Congress has re-nominated its sitting Lok Sabha member Thangso Baite, the Bharatiya Janata Party (BJP) has fielded Gangmumei Kamei, the Trinamool Congress (TMC) Kim Gangte, and the Nationalist Congress Party has pitted Chungkhokai Doungel to contest the poll.
The 51-year-old Kim Gangte of the TMC was the first woman parliamentarian from Manipur. She was elected to the Lok Sabha in 1998 as a Communist Party of India (CPI) nominee. Repeal of the Armed Forces (Special Powers) Act, 1958, and development are the major issues in the election this year.
BJP's prime ministerial candidate Narendra Modi and Congress vice president Rahul Gandhi addressed pre-election rallies in the state, once ravaged by the terrorism. Nagaland Chief Minister Neiphiu Rio had campaigned in the hill districts of Senapati and Tamenglong, which have substantial presence of Nagas, for NPF candidates.