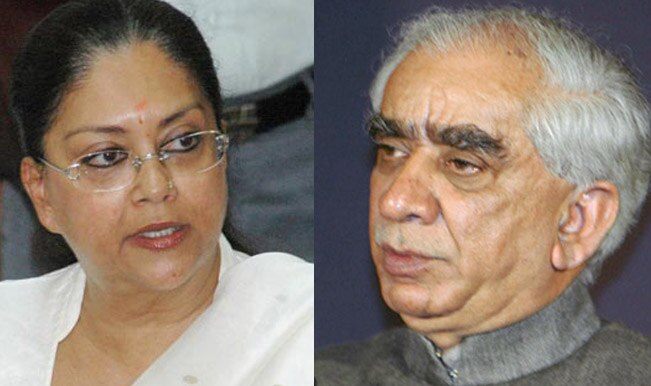 What might be going on in the BJP war room is beyond reach of a common man, but the recent spate over ticket distribution for Lok Sabha elections 2014 followed by side-lining and silencing the senior stalwarts in the party highlights a no-new internal faction within the party. Jaswant singh, the ex-defence minister is the latest under the trap side-lined by the party's central leadership.
There is a visible shift in the balance of power in the favour of new cadres like Narendra Modi, Vasundhra Raje, Shivraj Singh Chouhan and so on. Unlike Advani, Yashwant Sinha and Murli Manohar Joshi, it was Vasundhara Raje who sort of played a role of insistence in central leadership against Mr. Jaswant this time.
Ironically, it was Jaswant singh who has played a big role in mentoring and shaping Vasundhara Raje's political career. It was Jaswant Singh along with Bhairon Singh Shekhawat, another BJP stalwart who introduced Vasundhra Raje into the state politics of Rajasthan. In 1998-99, he forwarded her name for MoS External Affairs to then PM Shri Atal Bihari Vajpayee. After the 2003 Rajasthan Assembly polls, it was Jaswant Singh who played a key role in making her BJP's choice for the seat of Chief Minister.
But things took a turnaround when Sheetal Kumari, wife of Jaswant Singh filed a police complaint against a publishing house that had postered CM Vasundhara Raje as goddess Laksmi. This somehow strained the relation between Vasundhara and Jaswant singh and took a new high in 2007 when Ms. Raje ordered a CID probe against Mr. Singh for hosting opium laced party at his ancestral home. But this seemed not to end here. In the recent Rajasthan Assembly polls in 2013, Jaswant Singh's son Manvendra Singh, sitting MLA from Barmer Jaisalmer Constituency, was also not assigned any portfolio by Ms Raje in her government.
However, in this electoral battle, there are infinite cases of political leaders switching their loyalties. What remains to be seen is if Jaswant Singh wins and there is a strong speculation that he might, it would take the relations between them on a new course altogether.