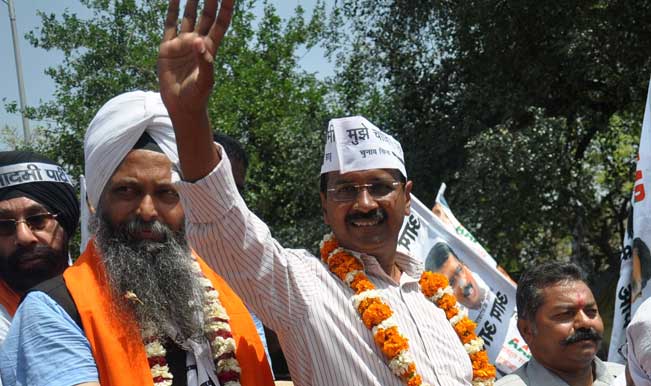 AAP declares 5 more candidates
Aam Aadmi Party today announced its candidates for five seats — one in Uttar Pradesh and four in Andhra Pradesh.In UP, the party has given ticket to Jagat Ram Sonker from the Bhahraich Lok Sabha seat.
Arvind Kejriwal launches a scathing attack against BJP
Launching a scathing attack on the BJP, Aam Aadmi Party leader Arvind Kejriwal today alleged that the saffron party leaders were capabale of "killing their own men to come to power".
AAP accuses DMK and AIADMK of TASMAC scam
Senior Aam Aadmi Party leader Prasanth Bhushan has alleged that companies controlled indirectly by DMK and AIADMK leaders are making massive profits through supplying liquor to the Tamil Nadu State Marketing Corporation (TASMAC).
Arvind Kejriwal takes train to Varanasi, aims to derail Narendra Modi's march
Confident that his party would "defeat" BJP's prime ministerial candidate Narendra Modi in the Lok Sabha polls, Aam Aadmi Party chief Arvind Kejriwal today took a train to Varanasi where they are locked in tough electoral battle.Before boarding a three-tier AC coach of Shiv Ganga Express at the New Delhi Railway station where hundred of AAP supporters assembled, Kejriwal expressed confidence that his party would "defeat" Modi and Congress vice president Rahul Gandhi for the "welfare of the country".
Arvind Kejriwal gets maximum TV news time: Study
AAP chief Arvind Kejriwal got the highest TV coverage during prime time news followed by BJP's Narendra Modi and Congress's Rahul Gandhi, a study said here Monday. An analysis of five news channels by CMS Media Lab showed that while the Aam Aadmi Party chief received 429 minutes or 28.19% of the time during 8-10 pm from March 1 to 15, Modi secured 356 minutes (23.98%).