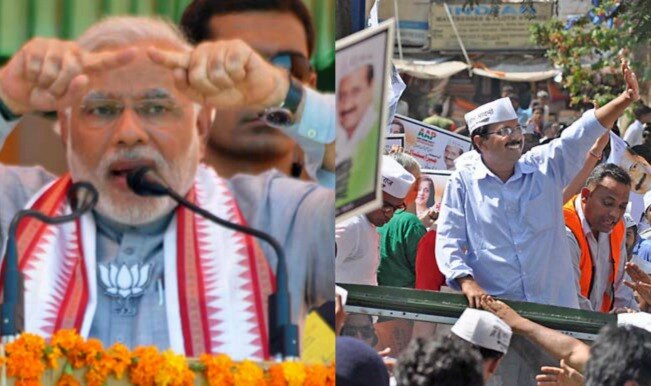 Finally, BJP workers end their much hyped protest, thus joining Modi's public meeting in Rohania Vidhan Sabha segment. Rohania is one of two rural assembly segments where Kejriwal holds the fort. AAP influence over the rural population can be seen which constitutes 40 percent of the constituency and includes the backward caste like Kurmi, Kumhar, Yadav and Kamhar. Kejriwal has been maintaining a low profile, but the recent developments and apprehension is the reason of the intense campaigning.
It is very naïve to say that the polarisation has taken a dent in the diversified and multi-cultural Varanasi. In 2012 Assembly poll, BJP did not win either of the rural assembly seats of Varanasi. The BJP appeared at the bottom of the table when they got only 9811 votes from Sevpuri and Rohania.
It is considered to be the fight between the rural Kashi versus and urban Varanasi. The urban constituencies like Varanasi North, Varanasi South and Varanasi Cantt — are dominated by the Rajputs, Brahmins, Bhumihars, and Baniyas who have rallied behind Modi and the rural pockets are backing Kejriwal where he did numerous nukkad and chaupal meetings in almost all the villages of the two areas.
Another reason is, the Janata Dal United that has extended its support to Kejriwal in Varanasi, the CPI(M) has also asked its cadres to work openly for AAP. The most famous is the JD(U) decision, not because their supremo is Kurmi, the caste that accounts for 2.5 lakh votes in the constituency which comprises of 14 lakh voters. Varanasi also has a sizeable amount of Bihari students studying here. The AAP is also getting the push from the Jamaat-e-Islami Hind, an islamist outfit that is also making an effort to consolidate the Muslim vote bank in AAP's favour. Muslim vote comprises of another 20 percent of Varanasi's electorate.
Congress Ajay Rai got the support from the Quami Ekta Dal leader Mukhtar Ansari, but got stuck in the contradiction around the murder mystery that took the life of Mr. Rai's brother, whose prime accused is Mukhtar.
With just 48 hours left for the campaign, Narendra Modi and BJP are making last minute efforts to exuberate the events making it 'larger than life'. Regardless of BJP's eventual performance, AAP leader Arvind Kejriwal whether wins or not, is the most 'authentic face' as the principal opposition who amongst others can fiercely negate the BJP's politics of crony capitalism.