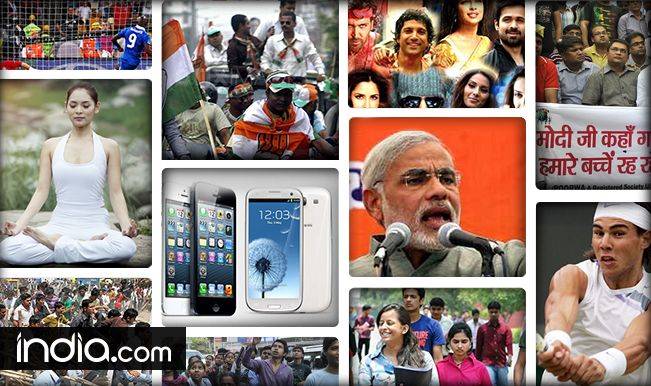 Chandan Mitra, 58, grew up in Hooghly and Kolkata, went to college in Delhi and Oxford and started his career as a journalist with daily newspapers. In his younger days, Mitra worked for the Janta Party, got involved with leftist movements, helped managed Shashi Tharoor's campaign for college elections and briefly joined the Labour Party in England. He eventually became a member of the BJP and has served two terms as a Rajya Sabha MP for the party. He has also continued his work as a journalist and editor, buying control of The Pioneer in 1998. In the upcoming elections Mitra will contest for a Lok Sabha seat for the first time in his career from his hometown of Hooghly. (Read the interview here)
Excerpts:
There is really no sharply defined left and right in India today.  Over time the Left has diluted itself to pink or maybe eventually yellow. The right, from navy blue, is probably diluting itself to something like a sky blue. So let us see where they all end up.
Don't try to colour the news, don't try to cloak your editorial policy in all kinds of niceties and homilies when you actually mean that you support the Congress or you support the BJP. Come clean, I think people appreciate it.
I think the Marxist influence is pretty pervasive, which is why in Kerala, Bengal and Tripura, BJP hasn't made headway. But I believe that this fortress is cracking and it's a matter of time before the Marxist hegemony of intellectual thought in Bengal, Kerela and Tripura collapses.
This year the BJP has again struck a deal with GorkhaJanmuktiMorcha for two seats – Darjeeling — where Mr. Surinder Singh Ahluwalia has been named as a candidate and Alipurduar, which is a reserved constituency and that's also a part of the deal. I therefore expect that at least these two seats the BJP should definitely be able to win straight away.
We didn't break the alliance with Mamta Banerjee. She moved away. We regard her as a part of the larger NDA family in the sense that she's been once a part of the NDA. And if she wishes to come back, of course the doors will be open.She's moved to a position where she's aggressively wooing a community and that is not a part of the BJP's brief. So I don't see much prospect of a pre-poll alliance at all. Post poll we will see.
There is a deep sense of betrayal and resentment in Singur. Farmers gave up their land, many of them actually voluntarily gave up their land and they are really angry and frustrated that nothing has happened.Now that land has become unusable. The West Bengal government gives farmers a certain amount of money every month, some 2000 or 4000 rupees, and some subsidised food. This is criminal. You can't make beggars out of farmers who want to be part of or partners in the industrial growth of Bengal.
India needs cities. We must build 50 more cities in the next 20-25 years. Not complete cities… but let's start the process. Because people will migrate and they are going to crowd already overcrowded cities and slums are going to come up.