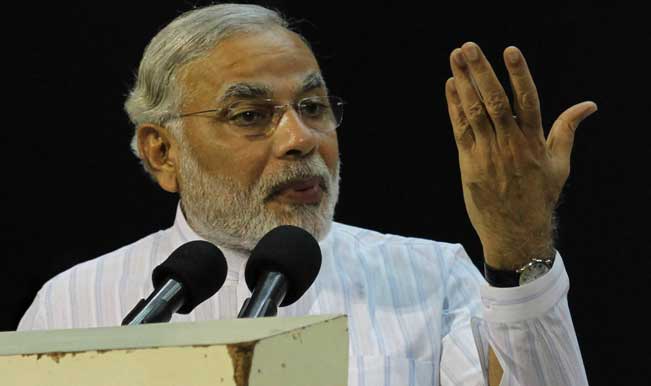 Modi flays Cong 'haath ki safai'  
The "Modi wave" appeared to have arrived in Assam with record turnouts in all his three rallies in the state on Monday. As crowd — with impressive numbers of Muslims, tribals and tea garden labourers — cheered him, Narendra Modi trained guns at Congress over graft and accused it of "haath ki safai (pick-pocketing)".
In Assam's tea gardens, BJP senses a shift from Congress 
Having attracted AGP leaders in droves and eaten into that party's votebank, the BJP has set its sights on a traditional Congress vote bank, the thousands of tea labourers. Five constituencies in Assam's tea region vote April 7.
Modi need not apologise to appease fake campaign: Jaitley 
Asserting that Narendra Modi had come through the toughest public and judicial scrutiny of the 2002 riots, BJP leader Arun Jaitley on Monday said an apology was being demanded from the Gujarat Chief Minister by those who were running a "fake campaign" against him.
Modi not the only BJP Chief Minister to score hat-trick, says Advani 
Addressing his first election rally for the coming general election, senior BJP leader L.K. Advani on Monday sought to place the party's prime ministerial candidate Narendra Modi in the same league as other BJP chief ministers, saying the Gujarat Chief Minister was only one among three chief ministers of the party to score an electoral hat-trick. "Our Modiji isn't the only one who has scored a hat-trick in elections. Shivraj Singh Chouhan [Madhya Pradesh] and Raman Singh [Chhattisgarh] have also been elected thrice like him," he said.
BJP plays safe on retail FDI 
If elected to power at the Centre, the BJP's priority will be to restore the investment cycle in the country, create a congenial ambience for foreign investors, clear projects in time and not discriminate against states that are investment-friendly. Unveiling the party's economic agenda in broad terms to a group of foreign correspondents here today, the BJP's Rajya Sabha Opposition leader and now Amritsar candidate, Arun Jaitley, was quoted as saying that the UPA had "completely marred" the investment cycle and "damaged" investor confidence in the Indian economy.
BJD's appeal to elect 21 MPs will create instability at Centre: BJP
BJP today claimed that BJD supremo Naveen Patnaik's appeal to send 21 party MPs to the Lok Sabha would create instability at the Centre. "Chief Minister Naveen Patnaik is appealing to the people of Odisha to vote for BJD and send 21 party candidates to Parliament from the state. However, voting for BJD will only create instability at the Centre," BJP spokesperson Sajjan Sharma said in a press release.