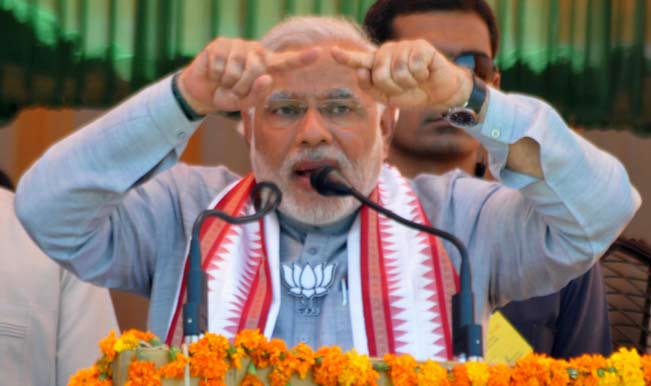 Farooq family communalised J&K, says Modi; don't lecture, retorts Omar
BJP prime ministerial candidate Narendra Modi engaged in some bitter sparring with Union minister and National Conference chief Farooq Abdullah and his son, Jammu and Kashmir Chief Minister Omar Abdullah, on Monday.
Modi calls Rahul namoona; 'knows little of Gujarat', he hits back: 'Modi will never sit, eat with Dalits'
On the last day of campaigning ahead of April 30 polls, BJP PM nominee Narendra Modi dubbed Congress vice-president Rahul Gandhi as "namoona" who has "little knowledge" of Gujarat.
No such thing as Hindu vote bank, says BJP
The BJP, said on Monday that Hindus were not a vote-bank, as the Centre had not evolved any schemes for them. "There is no such thing as a Hindu vote bank… The government of the day has done nothing for them. Is there any scheme for the Hindus?" party spokesperson Meenakshi Lekhi told a press conference here. Asked what was the need for a 'Sadbhavana' fast, which Gujarat Chief Minister Narendra Modi undertook, Ms. Lekhi said: "It was to end vote-bank politics."
BJP offers Dal 'dip' to Farooq
The BJP today suggested a "dip in the Dal" and worse for Union minister Farooq Abdullah, who had remarked on Sunday that those who vote for Narendra Modi should "drown in the sea".Continuing the battle of repartees that has become a staple of these elections, BJP leader Arun Jaitley blogged that Abdullah should take a dip in the Dal lake to "repent" for allegedly keeping mum when Kashmiri Pandits cannot return to the Valley.
Narendra Modi-Rajnath Singh pair would realise dreams of Atal Bihari Vajpayee: Modi
Appealing to Lucknow electorate to vote for Rajnath Singh, Narendra Modi today said the pair of "Modi-Rajnath" would work with all its strength to realise the dreams of former prime minister Atal Bihari Vajpayee.