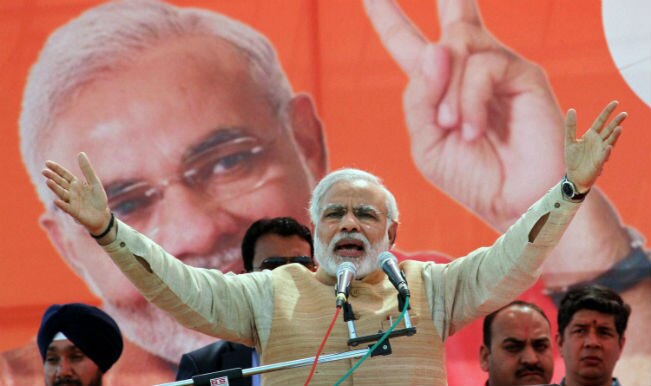 56 new entrants in BJP candidate list, anger rises
Former minister and veteran leader Jaswant Singh isn't the only one the BJP left out in the cold, picking old Congress hand Col. Sonaram Choudhary over him. Fifty-six new entrants to the party have got tickets for the Lok Sabha polls, accounting for about 14 per cent of the 409 nominations announced so far.
Modi hits out at Sonia over ticket to 'Adarsh' Chavan
At Ashok Chavan's home turf Nanded, BJP's PM nominee Narendra Modi on Sunday slammed the Congress leadership for fielding the former Maharashtra chief minister in the Lok Sabha polls despite corruption taint in the Adarsh housing scam.
'Dawood' decouples BJP and Sabir Ali
The BJP needed just five hours to do a flip-flop on Pramod Muthalik; the somersault over Sabir Ali has taken nearly a whole day. The party today booted out the Rajya Sabha MP from Bihar — expelled by the Janata Dal (United) 10 days ago for praising Narendra Modi — a day after his induction provoked a near-rebellion.
Survey poses last-lap riddle for Modi camp
The BJP continues to hold a significant lead over the Congress although it has lost some ground since February while the Congress has improved, a national opinion poll by ABP News-Nielsen suggests. The NDA is projected to win 233 seats in the elections that begin next month, a loss of five seats since February. The UPA is forecast to get 119 seats, a gain of 27. The NDA vote share has been put at 32 per cent and that of the UPA at 26 per cent.
BJP giving up values for temporary gains: Jaswant
Hitting out at the BJP for "perverting and destroying" vital principles of conduct in public life "under the pretence of party discipline," the former party leader, Jaswant Singh, expressed his displeasure at being expelled from the party he co-founded.