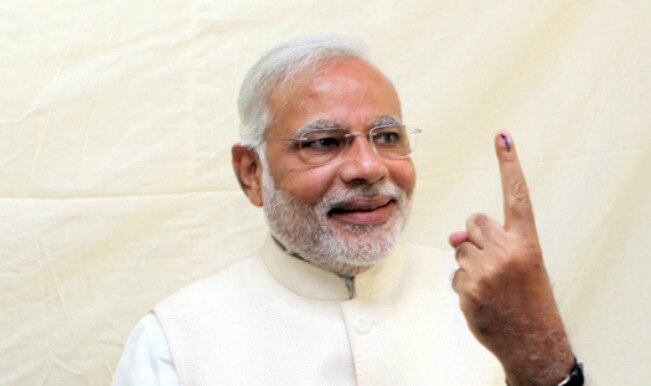 BJP goes to EC, threatens protest after Varanasi DM blocks Modi's rally
The district administration of Varanasi and the BJP were locked in an angry confrontation Wednesday after the authorities refused to permit Narendra Modi, the party's prime ministerial nominee and the candidate from the constituency, to hold a rally at the Beniabagh Maidan in the city.
Five days before polls, Modi vanishes from BJP posters
Days before Varanasi goes to the polls, the BJP on Wednesday replaced its candidate Narendra Modi's election hoardings with general posters of the party. While Modi's photographs dominated the hoardings earlier, the new posters only have the BJP's symbol.
Defy husbands and vote for Modi, RSS tells Muslim women
As the election in Varanasi inches closer, the Sangh Parivar has stepped up its attempts to ensure victory for the BJP candidate Narendra Modi.The controversial RSS leader Indresh Kumar is in Varanasi and is reaching out to the Muslim community, asking them to vote for Mr. Modi. In the last two days, Mr. Kumar has addressed several such meetings, organised by Muslim organisations affiliated to the RSS.
Modi deflects 'cheap' salvo at opponents
Narendra Modi today said the people behind rotting of foodgrain in godowns and the Commonwealth Games scam were indulging in neech rajniti (cheap politics), not he."Those who have indulged in letting foodgrain rot in godowns or defrauding the sportsmen of their money in the Commonwealth Games are indulging in neech rajniti, not me.
N. Chandrababu Naidu confident of TDP-BJP alliance's victory
Telugu Desam Party (TDP) chief N. Chandrababu Naidu exuded confidence that TDP-BJP alliance will come to power in Seemandhra and will bag majority of the Lok Sabha seats in the stateHe told reporters here Wednesday evening that the high polling would help the alliance.