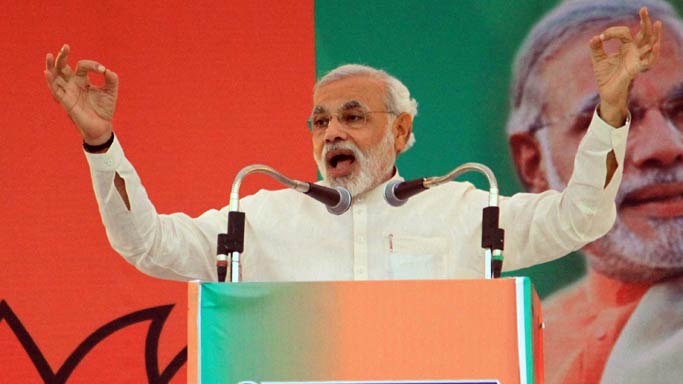 After Muzaffarnagar, BJP farms Jat vote in western Uttar Pradesh
Neither Union minister Ajit Singh nor the late farmers' leader Mahendra Singh Tikait considered each other a leader of the farming community of Jats in western Uttar Pradesh.But the fear of the community drifting towards the BJP in the wake of last year's communal riots in Muzaffarnagar has got them to bury their differences and try and rally the influential community behind them.
Sonia-Imam meet: BJP moves EC
The BJP on Thursday moved the Election Commission against Congress president Sonia Gandhi's recent meeting with Syed Ahmed Bukhari, Shahi Imam of Delhi's Jama Masjid, alleging that it was her attempt for a "communal polarisation", hours after CEC V S Sampath assured of an action on the issue if the poll body received a complaint.
Divided Muslims may help BJP's Hukum Singh
The wounds of the communal divide, created by the riots last year, have not healed yet, but the people of Kairana constituency, spread over Shamli and Saharanpur districts, have decided to move on and vote for development in the Lok Sabha election.
Modi to accompany Advani when he files papers tomorrow
The Bharatiya Janata Party prime ministerial candidate Narendra Modi will accompany party patriarch L.K. Advani when he goes to file his nomination papers for the Gandhinagar Lok Sabha constituency on Saturday, said party sources. The party was keen, in the wake of initial differences over ticket distribution and choice of allies, to send out the message that its top leadership was united to face the elections starting April 7, they said.
BJP talks special status
The BJP state unit today joined the BJD chorus for the special category status for Odisha."If we come to power, we will exert pressure on the Centre to fulfil the legitimate demand of the state," said BJP manifesto committee chairman Biswa Bhushan Harichandan.
Narendra Modi attacks Congress on secularism
BJP's prime ministerial candidate Narendra Modi on Thursday attacked Congress on the issue of secularism. "I demand an answer on price rise, the Congress says, 'What about secularism?'.. I talk about youth, employment, they talk about secularism… I talk about safety of women, the Congress again talks about secularism," said Modi addressing a gathering of about 15,000 people at Ghaziabad. Modi said since the Congress party does not know how to deal with Modi they are playing the game of secularism.