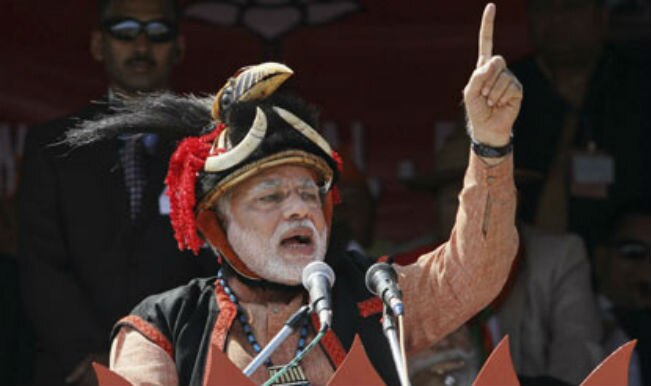 Exactly a year ago, I was in Northeast on a study trip with my teachers where we visited relief camps, met diplomats, government officials, and journalists. Everyone's sorrow differed from each other but the common grief was the feeling of being neglected. "A small fire in Mumbai or Delhi and it is breaking news for news channels but it takes a Kokrajhar-like instance, where 5000 people have to die, for the Northeast to get noticed", was a scathing remark of one of the journalists. "They are fine with Chhattisgarh, Jharkhand, and Uttarakhand being formed but when it comes to Bodoland, our demands are not even entertained", said a member of the All Bodo Students' Union.
The feeling of alienation and neglect, in Northeast, is as common as a sunrise. And BJP, by delaying its manifesto until 7th of April, has just rubbed salt on their wounds. On the same day, five of the 14 constituencies in Assam and one of the two constituencies in Tripura are scheduled to kick-off the general elections. On 9th, polling in Arunachal Pradesh, Meghalaya, Nagaland, Manipur, and Mizoram will take place. Therefore, it seems like disclosing the syllabus on the eve of exams to a few students. Students you do not care about.
Narendra Modi has given importance to Assam and Northeast in his campaigns. However, not coming up with a manifesto before polling insinuates that votes from Northeast do not matter or the BJP is too confident of conquering Northeast. Considering BJP's dismal record in this region, the possibility of the latter is rather tenuous. Besides, the polls suggest that their performance is not going to alter much in the upcoming elections. Therefore, the voter from the Northeast has every right to feel scorned, hurt, and insignificant.
Moreover, it says a lot about the party, which has projected its leader as a visionary. Congress has come up with their manifesto, however lame it sounded. Even someone as inexperienced as Aam Aadmi Party disclosed its manifesto. So not been able to come up with something as basic is the last thing you would expect from a party, which is expected to come to power with a 'visionary' leader. Surely a few speeches from Modi scorning the opposition and collecting a few political points cannot be regarded as his vision or his party's agenda.
Many would argue that the voter does not read the manifesto closely and his vote is already decided. However, the attitude matters. In 'Chak De India', Javed Khan Amrohi, while welcoming hockey players from Northeast, treats them courteously but as guests. He gets a scathing response, "Kya aap apne hi desh mein mehman bankar khush rahenge?"
Modi and his BJP have just added to the fractured relationship between Northeast and the rest of India.