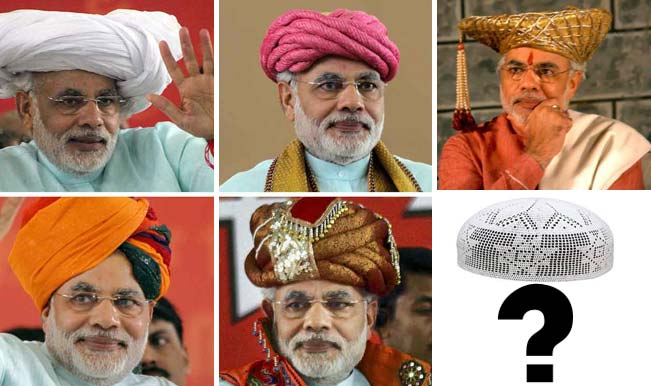 "The candidate should be such that his secular credibility in a multi-religious and multi-lingual country like India should be beyond doubt", said Nitish Kumar in an interview in April 2013. He further added, "Only one who can carry with him all the diverse sections of people can become the leader of the nation. This was Atal Bihari Vajpayee's personality. Now, if there is an attempt to change the path, there are bound to be problems."
When he made this statement, his party was one of the allies of the BJP and Narendra Modi's name was being insinuated as the future Prime Minister. Cut to 2014, Nitish Kumar no longer remains part of the NDA but his words seem to be ringing in Modi's ears.
First Modi undertook a Sadbhavna Yatra and tried to reach out to the Muslims. He, probably for the first time, candidly confessed in his blog that the 2002 riots hurt him deeply. The blog was just a step below an apology. Pramod Muthalik, famous for his Hindu nationalism, was expelled hours after being included in the party considering the negative repercussions. Besides, not even once has Modi played the Hindutva card in his recent speeches. He has been campaigning rigorously in the Northeast as well and has made three different trips to Assam, two to Arunachal Pradesh, and one to Tripura. The northeast region has, by and large, not been one of the top priorities of most of the politicians in the past but Modi seems to be setting a new precedent here. BJP has never been dominant in Northeast with Congress always emerging as the number one party. Keeping this equation in mind, Modi did an alliance with PA Sangma, a Christian. BJP has also tried to make a statement by including Ramvilas Paswan, Sushil Modi and MJ Akbar. They even included a controversial Sabir Ali, the expelled leader of JD(U), only to get rid of him a day later. Most of these things are at odds with the ideology of RSS, yet Modi has gone ahead with it.
Much to Modi's credit, he seems to have accepted the reality and is taking steps to woo minorities. However, the moot question is; does he have a choice? Constituencies dominated by Muslims remain unconquered. The blot of 2002 pogrom still seems to be an impediment. Great chunk of Muslims have not yet forgiven him, and they will not do so until he comes up with a heartfelt 'Mea Culpa'.
Even the late Promod Mahajan, former General Secretary of the party, had said in 2004, "the BJP has realised it cannot rule one billion people without the participation of 120 million Muslims". The top three states with largest Muslim population are Jammu and Kashmir, Assam, and West Bengal. And all the three states have been out of the comfort zone of BJP. Even after such strong anti-incumbency at the centre, Assam remains UPA's bastion. According to CNN-IBN surveys, it is one of those rare states where Rahul Gandhi is preferred over Modi as the Prime Minister of India. Moreover, there is a strong chance of Trinamool Congress emerging as the third largest party in the upcoming elections behind BJP and Congress. It would be folly to forget that there are around 30 percent Muslims in West Bengal and Mamata Banerjee has the backing of almost two-thirds of them. Plus, there are international connotations as well. Alienating minorities will tarnish Modi's image across the globe.
Therefore, the message is loud and clear. However, it will be intriguing to see how Modi, provided he becomes PM, balances between his act of wooing minorities and ensuring that the disillusionment does not creep in among the RSS cadre. During his Sadbhavna Yatra, he might have made an effort to reach out to Muslims but refused to wear their headgear. It was a striking declination considering he has been prompt in donning local headgears wherever he has gone to campaign. If he becomes PM, he will have to deal with such catch-22 situations more frequently. BJP's previous PM, Atal Bihari Vajpayee, managed the balancing act efficiently. Had he allowed the powerful RSS cadre to bully him, Lahore Declaration Treaty might never have been signed.
As of now, credit must be given to Modi for putting in a lot of physical hard work. He has been traveling through the country and seems determined to grab this once in a lifetime opportunity. But the act of balancing will get more tedious and arduous once the opportunity is grabbed.
The jury would still be out.