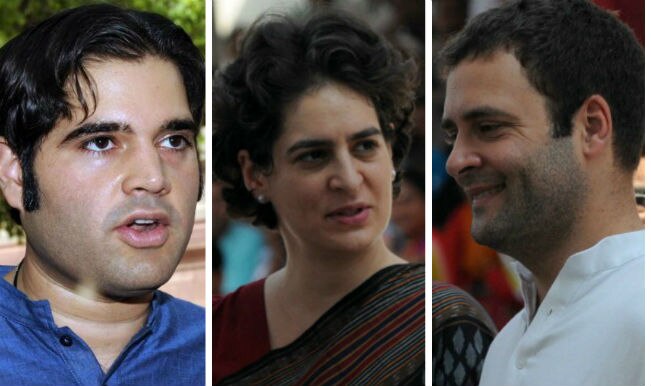 The gloves are off. The blood is thicker than water but ideological war is sacrosanct in this ongoing 16th Lok Sabha election. Priyanka Gandhi has decided to entangle her estranged cousin and the BJP's general secretary Varun Gandhi in war of words. Today Varun Gandhi – a sitting MP from Pilibhit, Uttar Pradesh – filed his nomination papers from Sultanpur and grabbed the headlines.
Priyanka Gandhi had already asked people to teach Varun Gandhi a lesson who, according to her, has gone astray. To this Varun Gandhi shot back by saying she had crossed all Lakshman Rekhas of decency. But Priyanka Gandhi is in no mood to relent. She has gone a step further by proclaiming that this election is an ideological war and not a tea party and she wouldn't even forgive her children if they had done what Varun Gandhi did.
Varun Gandhi is under attack from her own cousins whose party is going to put its worst ever performance in this Lok Sabha election. According to the latest opinion polls, the Congress is going to win less than hundred seats. Where Varun Gandhi's BJP-led NDA is going to get the magic number comfortably. The results are a month away but the nervousness is palpable in the Congress' camp.
Varun Gandhi has fought the elections in the past. He has got supporters too not because of his Gandhi surname but his brand of politics had endeared him to many people in his constituency. This time around he has come across as a seasoned campaigner who has refrained from any kind of rhetoric that can be termed as communal. His party's fortunes are on the rise thanks to its prime ministerial candidate Narendra Modi's ever soaring popularity. As a result, Varun Gandhi will obviously do well in Sultanpur.
On the other hand, his cousin Rahul Gandhi is up against Smriti Irani of the BJP and Kumar Vishwas of the Aam Aadmi Party in his bastion Amethi. He is clearly battling sever anti-incumbency. Smriti Irani is a Indian house wife next door who does not deserve the tag of an outsider in Amethi. If this was not enough, Kumar Vishwas of the Aam Aadmi Party too is throwing open challenges to Rahul Gandhi. In hindsight, the battle for Amethi looks dicey for Rahul Gandhi. Smriti Irani has an upper hand and this is what is making the sister Priyanka Gandhi nervous.
She is foolishly thinking that by attacking her estranged cousin who is contesting this election on a BJP ticket, she will be able to improve her brother Rahul Gandhi's chances of winning the Amethi seat. Her invocation of ideologies at this juncture is a tad too late. Her party has joined hands with Shahi Imam of Delhi's Jama Masjid to get secular votes. The observers have termed this desperation of the Congress as communal in nature.
Varun Gandhi has not said anything communal in nature in the election so far. He is fighting to win this election so that he gets a prominent national role when Narendra Modi forms the government. It is wrong on Priyanka Gandhi's part to target Varun Gandhi in this manner. Varun Gandhi will remain unruffled if this continues but the nation will have occasions to have hearty laughs at Priyanka Gandhi's childish and immature jibes at her cousin.