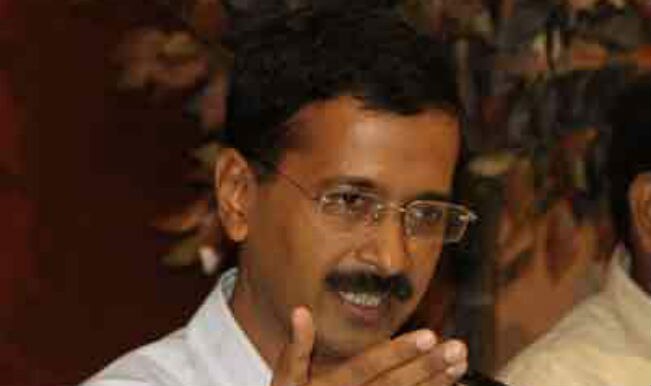 'Unfortunate' that power, water cost will rise again, says Arvind Kejriwal 
With just 10 days to go for Lok Sabha elections in the capital, the Aam Aadmi Party chief Arvind Kejriwal held his first public meeting in Delhi. Issues relating to the Delhi Assembly elections loomed large in his address to AAP supporters in Dwarka on Monday — from the achievements of his 49-day government and the AAP government's resignation to the urgency of re-elections in the capital.
Jaaved Jaaferi of AAP to take on Rajnath 
The Aam Aadmi Party has fielded film actor Jaaved Jaaferi to take on Bharatiya Janata Party president Rajnath Singh in Lucknow. Mr. Jaaferi is the son of comedian Jagdeep.Riturajbhai Maheta will be the party's candidate against BJP's leader L. K. Advani from Gandhinagar in Gujarat while Anwar Alam will contest from Madhepura in Bihar against Janata Dal (United) stalwart Sharad Yadav.
Shoe-thrower gives AAP a minority toehold
He is the man who threw his white-and-blue trainer at then home minister P. Chidambaram. That was in April 2009, at a packed news conference at the Congress headquarters in Delhi.Singh was protesting against the CBI's clean chit to Congress leader Jagdish Tytler, an accused in the 1984 anti-Sikh riots.
Cong, BJP join hands against AAP
The Congress and the BJP were today on the same side in the Supreme Court seeking adjournment of the hearing on the Aam Aadmi Party's petition challenging the imposition of President's rule in Delhi after Arvind Kejriwal's resignation.The apex court gave the two parties two weeks to respond on whether an alternative government could be formed in Delhi.
BJP, Congress scared of elections: Arvind Kejriwal
AAP leader Arvind Kejriwal today accused BJP and Congress of pressurising the Lt Governor to defer Assembly polls in Delhi and said both the parties were "scared" of elections."If elections are held tomorrow, AAP will get 50 seats.They (BJP and Congress) pressurised the LG and deferred the elections. Why arethey scared of elections? We went to the Supreme Court seeking dissolution of the House and asked for fresh polls," Kejriwal said at a rally in Dwarka in support of AAP candidate for West Delhi Jarnail Singh.