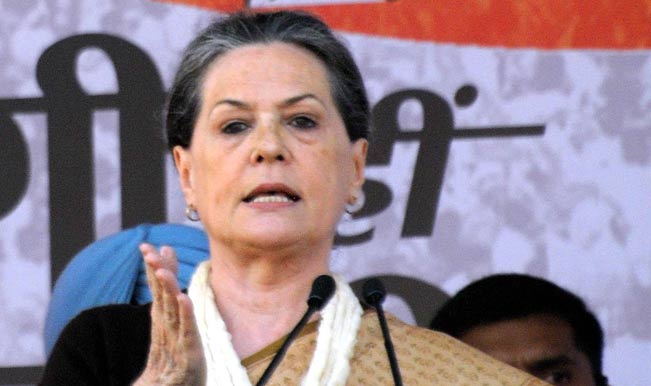 Week to go for vote, candidate dumps Congress
A week before voting day, the Congress candidate for Gautam Buddha Nagar crossed over to the BJP, marking the second desertion by a Congress Lok Sabha candidate in under a month. Ramesh Chand Tomar appeared on stage with Narendra Modi in Ghaziabad, and looked thrilled as Modi hugged him before a full house of BJP supporters. Later, every time Modi mentioned him as an old and dear friend, Tomar stood up and waved delightedly to the crowd.
Sonia too targets him in Sasaram: 'he wants democracy in his fist'
Sonia gandhi targeted Narendra Modi Thursday, saying the only people considered "patriots" by the BJP were "those who agree to follow their ideology".Addressing her first election rally in Bihar, Sonia took on CM Nitish Kumar for "trying to project himself as the messiah of secularism to hide his government's failures". While she made no mention of alliance partner RJD chief Lalu Prasad, Sonia did take credit for making Sasaram candidate Meira Kumar the country's first woman Lok Sabha speaker.
Meat exports growing in Modi's Gujarat too, says Congress
The Bharatiya Janata Party's prime ministerial candidate Narendra Modi raked up the issue of meat export for the third day running on Thursday, accusing the Congress of promoting slaughterhouses in the country. The Congress retorted that Mr. Modi was indulging in doublespeak as Gujarat, too, exported meat and accused him of trying to "communalise animal husbandry."
In former Maoist zone, Congress hopes development schemes will yield returns
Soon after paramilitary forces launched a massive operation to flush out Maoists in the Saranda forest area in Singhbhum in 2011, the Ministry of Rural Development launched a Rs. 250-crore Saranda Development Plan (SDP) to bring in development and to consolidate the government's hold on the area.
Sonia powers attack on Nitish 'mask'
Sonia Gandhi unleashed a scathing attack on Nitish Kumar for "changing face time to time" in her maiden election rally in the state today."Beware of people who change their face from time to time. Till yesterday, they were with the BJP and now using a mask they claim themselves as messiah of secularism. They attack us and make baseless allegation to hide their own failures," she said.
Sonia Gandhi to address public rally in Delhi Sunday
Congress President Sonia Gandhi will address an election rally here Sunday, kickstaring her party's campaign in Delhi for the Lok Sabha polls.Although Congress' candidates are busy campaigning in their respective constituencies, party leaders say Gandhi's rally will bolster the party's flagging morale before Delhi goes to the polls April 10.