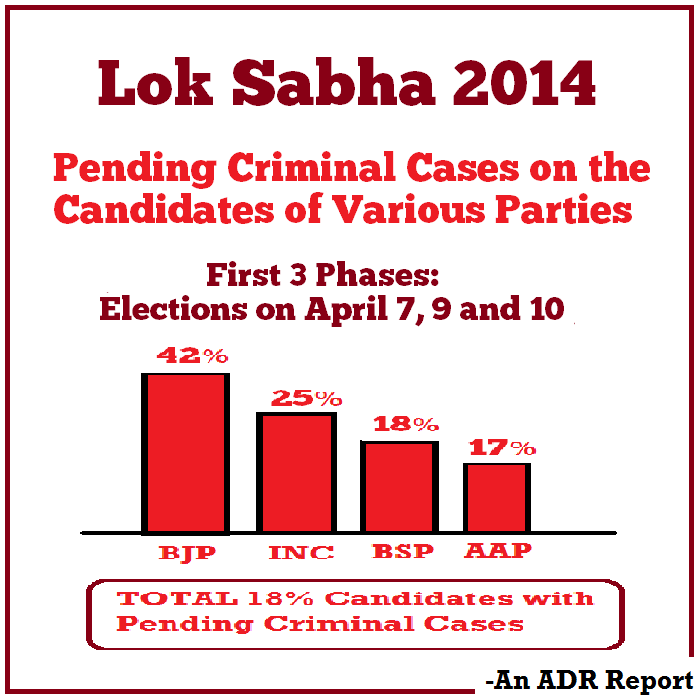 How serious is the Indian judicial system about upholding the decision of not allowing candidates with criminal charges to contest elections? And how dedicated are our political parties in trying to follow it? With the recent declaration of criminal charges of 5 BJP candidates (out of 7), 2 Congress candidates, and 1 AAP candidate from the Delhi constituency, voters are forced to believe that this rule is yet another sham in the name of law. This wasn't surprising because we have had candidates with criminal charges against them nominated from other parts of the country as well– Ashok Chavan, Pawan Bansal, to name a few. Lalu Prasad Yadav recently went on record to declare his aspirations to contest in the election as well, that too days after being released on bail!
It seems like the candidates are not just taking on each other in the elections but also in the count of charges against them- Maheish Girri of the BJP from East Delhi constituency scoring the highest with four IPC charges against him. If you thought that the independent candidates were your best bet this season then think again- Sunil Chhikara, an Independent candidate from North West Delhi Constituency, is set to prove you wrong on that point. All the talk about independent politicians being honest and better connected with the masses goes down the drain. And how can we forget the Congress when we talk of corruption? Mahabal Mishra of the Congress from West Delhi Constituency, with three IPC cases against him, is tied for second place with Chhikara.
Nearly 23 of the 150 candidates from all parties analyzed so far have cases of mild or serious offence against them. 13 of these have declared serious criminal cases including those related to kidnapping, criminal intimidation, extortion, etc. Four out of the five criminal candidates from the BJP face serious criminal cases.
All of this leads us to the same question we had started off with- aside from the law, are our parties even interested in living up to the promises made in their manifestos? What happened to the tall promises of empowering women and ensuring the safety for women after the Nirbhaya case? Mohammad Shakeel Saifi of the BSP from East Delhi constituency clearly doesn't care. He has declared a case related to assault of a woman with intent to outrage her modesty.
It is well known that after coming to power politicians are often framed and convicted on charges of corruption and other illegal activities in India. But with this current trend we are forced to believe that it's the reverse that is true– only with a history of criminal charges can anyone be nominated as a political candidate, which is almost a prerequisite for getting an election ticket. For those parties that had claimed to bring about clean politics this time around (read Rahul "baba" Gandhi's Congress and NaMo's BJP) maybe a thorough check of their own party's actions before making tall promises would be a good idea.