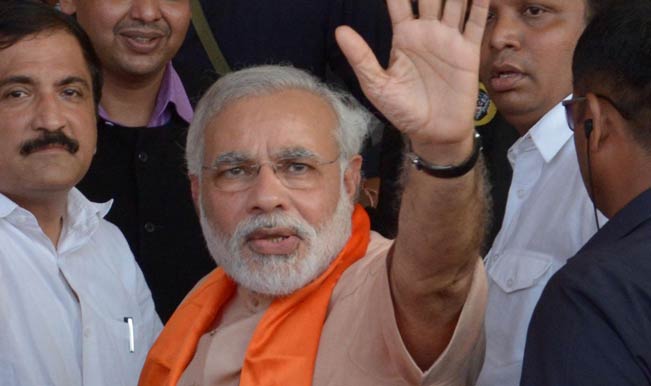 The new-age voter seems to be losing confidence in Congress as development seems to be a secondary agenda in the Congress manifesto. The manifesto rather focusses on fighting the old ills first.
Aam Admi Party (AAP), too, has not been able to generate a mass appeal at the national level for the upcoming Lok Sabha elections, the way it did in Delhi a few months ago.
The mood in the nation clearly reflects that BJP has a more promising future than other political parties.
BJP has put 'generation of employment' and 'urbanization' at the centre of its policy pitch and this is where they have managed to excel. As more than 50 per cent voters fall in the youth category, having an agenda for the young would definitely give an edge to BJP in the upcoming elections.
Narendra Modi has already made it clear in several speeches that BJP's main focus will be on skill development and creating 250 million jobs in the next 10 years.
So, compared with Congress and AAP, BJP seems to be more focussed and not just promising.
#WhyPMModi @narendramodi has experience of 15 years as CM, has plan of development Plan of corruption free India pic.twitter.com/98vhiVSTh4

— #MG4EastDelhi (@dhanjitgiri) March 27, 2014
Despite continuous criticism for the 2002 riots ,the fact that Narendra Modi has been successful in delivering growth and prosperity in Gujarat cannot be ignored. The state has never seen an economic slowdown in the past 13 years under Modi's rule.
Congress may be trying to lure the voter with a basket of goodies but it is difficult for the Congress leaders to deny the charges of a slew of scams in the past ten years of governance.
We surely do not want to see again these scams in #India #WhyPMModi pic.twitter.com/Xo9p5rMcty

— हिन्द गर्जना (@tweetanshul) March 27, 2014
If we look at the recent poll surveys conducted by different agencies across the country, Modi emerges as the first choice for the top post standing well ahead of Rahul Gandhi and Arvind Kejriwal.Clearly, it is not just the vibe of Modi wave, but facts and figures too project him as the prospective Prime Minister of India. He has been quite successful in creating an image of a leader with a clear vision on the key development issues.
#WhyPMModi coz we want opportunities,jobs,security and not subsidie,freebies and false promises!!"

— Dr.Sweta Patel (@Sweta148) March 27, 2014
Modi has talked about the solutions and not only about problems. More importantly, he has been successful in marketing the Gujarat model, that can be emulated across the country. Instead of luring the voters by subsidies he has always talked about creating opportunities.