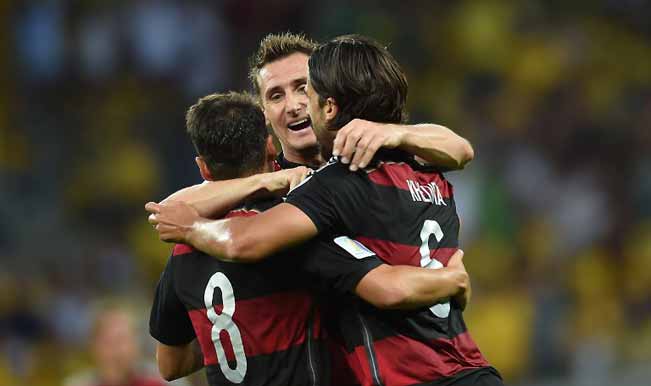 BELO HORIZONTE, July 10: Some 14 years after their humiliating Euro 2000 exit, Germany now stand with the world at their feet amidst the fall-out from their remarkable thrashing of Brazil.
Joachim Loew's Germany capitalised on an emotionally fragile Selecao side, shorn of injured star Neymar and suspended captain Thiago Silva, to inflict a 7-1 mauling on the hosts in Tuesday's World Cup semi-final.
The battering Brazil sustained in Belo Horizonte even had the usually reserved German Chancellor Angela Merkel describing the victory as 'historic'.
Loew's Germany are now on the verge of their first World Cup title for 24 years with their global reputation for eye-catching football enhanced after handing Brazil their heaviest international defeat.
"The final is sure to be a different game, but there is one thing they have done — the respect for this team has now become even greater," enthused Franz Beckenbauer who captained West Germany to the 1974 title and coached the 1990 World Cup winners.
It's all a far-cry from Euro 2000, when Germany bowed out after failing to win any of their three matches.
That humiliation prompted the German FA (DFB) and the German Football League (DFL) to put politics aside and focus on a player development strategy which is now bearing fruit.
The DFB ploughed millions of euros into building youth academies across the Bundesliga's top tiers.
A tactical blueprint was laid out for the DFB's junior teams, so a player rising through the age groups had continuity while DFB coaches scouted playgrounds and sports fields for talent.
The various clubs controlled their own academy systems, but followed DFB guidelines.
Despite reaching the 2002 World Cup final, Germany again exited in the first round of Euro 2004 with two draws and a defeat as coach Rudi Voeller resigned.
With increasing desperation, the DFB took a gamble by naming inexperienced former striker Jurgen Klinsmann as head coach and he appointed Loew as his assistant.
With the academy system starting to yield talent like Bastian Schweinsteiger, Philipp Lahm and Lukas Podolski, Klinsmann and Loew promoted youth and attacking football.
Only an extra-time defeat to Italy in the semi-finals halted the Germans' march when they hosted the 2006 World Cup and when Klinsmann stepped down, Loew took over.
The 54-year-old steered the Germans to the Euro 2008 final where they lost the Vienna final 1-0 to a Spanish side at the start of a golden era.
The South Africa World Cup was when Loew's Germany announced their return as a powerhouse on the global stage.
With an average age of 24, the multi-national squad saw the likes of Mesut Ozil, Sami Khedira, Thomas Mueller and Manuel Neuer break into the side with performances which suggested they were there to stay.
Ozil, the Gelsenkirchen-born son of Turkish immigrants, is a good example of a current player who rose through the system having been spotted by a DFB coach before he joined Schalke.
Both England and Argentina conceded four goals to the Germans, who won scores of neutral fans at South Africa 2010 with fleet-footed, eye-catching football, in the knock-out stages.
Again, Germany's run was halted by Spain, this time in the semi-finals.
Four years on in Brazil, Germany can grind out results after a 2-2 draw with Ghana and 1-0 win over the USA in the group stages, but also turn on the style in their 4-0 rout of Portugal before Tuesday's thrashing of Brazil.
"The team is a step further," Schweinsteiger said when comparing the 2010 team.
"Every single player has developed further at their clubs and the amount of good players has also increased."
Domestically, German football is in rude health with Bayern Munich and Dortmund both major forces in the Champions League last season having contested the 2013 final.
Six Bayern players started the Belo Horizonte semi-final while Dortmund's Mats Hummels has established himself as a world-class centre-back.
And who knows how much stronger the Germans would have been had dynamic Dortmund winger Marco Reus not torn ankle ligaments before the World Cup?
In sunday's final, Germany face the winner of Wednesday's second semi-final between Argentina and the Netherlands.
Click here to see the FIFA World Cup 2014 Brazil Schedule