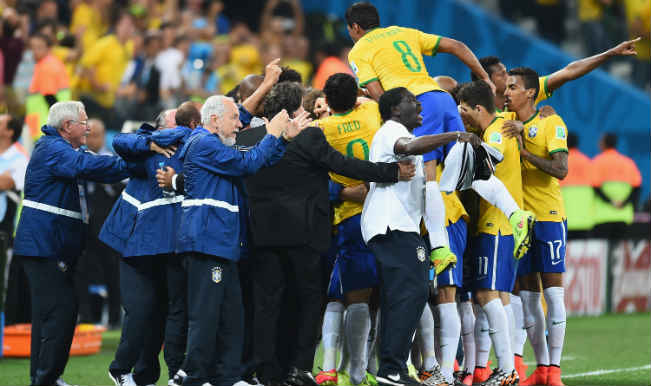 The first match of the FIFA World Cup 2014 was between Brazil and Croatia and ended in a rather impressive score of 3-1. Brazil were the victors and few had any doubts that they'd win the match with a rather impressive score, that being said Croatia played extremely well and certainly gave the Brazilian footballers one hell of a fight. In fact the match looked like it would have ended in a draw with the Brazilian offence and Croatian defence seeming evenly matched. Brazil only managed to score the next two goals later on in the game, one as a result of a penalty and the other in the form of a swift counter attack.
Brazil scored a total of four goals in the game, unfortunately for them, the first goal of the FIFA World Cup 2014 (which occurred in the first 11 minutes of the match) was an own goal by the Brazilian player Marcelo (we're pretty sure the poor chap would have been in serious trouble had the match ended in a draw). Despite Brazil having a brilliant offence they were unable to score against the Croatians who were sticking to playing defensively. However within the 29th minute of the match the Brazilian player Neymar finally managed to score bring the score to 1-1. For a good part of the game there was a stalemate with the Brazilians unable to score against the strong Croatian defence and it looked like the match would end in a draw. Fortunately for the Brazilians, and rather unfortunately for the Croatians at the 71st minute the referee gave the Brazilians a penalty kick after a Croatian player pulled a Brazilian player. Once again Neymar (who took the penalty kick) managed to score a goal against the Croatians.
Many felt that the penalty was uncalled for but it sealed Croatia's fate, finally at the 91st minute Oscar the young Brazilian striker scored a final goal against Croatia ending the game with a respectable 3-1.
While Brazil may have won the game, it just goes to show that nobody should ever underestimate an underdog especially in a game like football where the outcome of a match can change within seconds. The first match of the FIFA World Cup 2014 was certainly fun, and was totally worth sitting up at 3:30 in the morning to watch.
Click here to see the FIFA World Cup 2014 Brazil Schedule