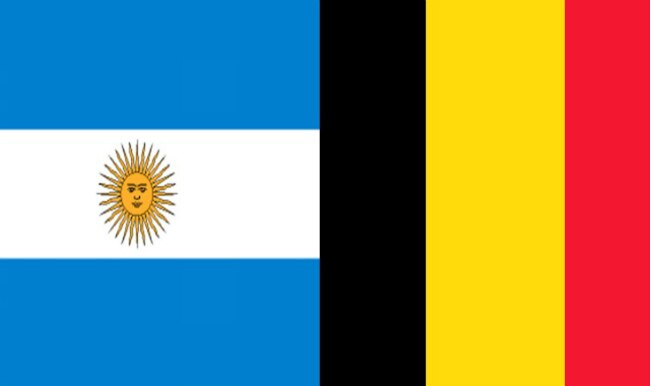 Argentina and Belgium face each other in the 3rd quarter-final. Both teams booked their place in the last 8 after winning their respective round of 16 matches in an extra time. Lionel Messi has time and again taken Argentina out of difficult situation to see them emerge winners and once again Argentina will look forward to their captain to create an on field magic.
Belgium's 2-1 win over the USA saw them enter the quarter-final for the second time in their history. As these two teams clash with an eye on vacant semis spot we bring to you some interesting facts related to both
1) In their last three quarter-final stages of the World Cup Argentina have failed to get past. In 2010 and 2006 they lost to Germany and Netherlands eliminated them in 1998.
2) Here is something that might worry Argentine fans. If shoot outs are not included, Argentina have not won a World Cup quarter-final since defeating England 2-1 in 1986.
3) Captain Messi has scored or assisted five of Argentina's seven goals at the 2014 World Cup. In addition to this three of his four goals been scored from outside the penalty area.
4) Lionel Messi's inclusion has always been a boon for his team as in last 25 games in which Messi has featured for Argentina they have not lost a single match, winning 18 and settling for draw in seven games.
5) This will be Belgium's second quarter-final. Their first appearance was way back in 1986, that year they defeated Spain on penalties to enter the semi-finals.
6) Belgium's all of six goals in the World Cup have come after 70th minute. What is interesting is four of these goals have been scored by substitutes. So, can substitutes score once for Belgium?
7) Goalkeeper Thibaut Courtois is a lucky charm for his side just like Messi for Argentina. In 21 games the goalie has featured Belgium have not lost any of those games.
8) Last time these two team met each other was way back in 1986 World Cup semi-final. Argentina won that game by 2-0.
9) Head to head Belgium have only once defeated Argentina while losing on three other occasions.
Click here to see the FIFA World Cup 2014 Brazil Schedule