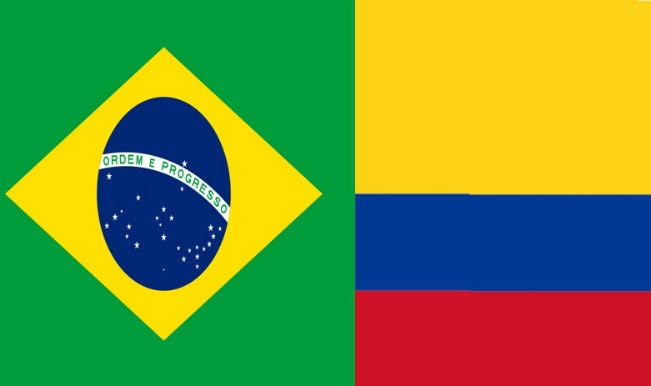 Hosts Brazil face an ultimate test in shape of Colombia in the second quarter-final. Colombia have been one of the impressive teams as they are unbeaten in the tournament. James Rodriguez has been the star performer for them as his two goals in round of 16 match helped Colombia advance to quarter-finals and sent Uruguay packing.
On other hand there is weight of expectations on Brazil who have not been in their best so far and advanced to quarter-finals defeating Chile on penalties. There is a semi-final berth on offer and these two South American sides will put their best game forward to zip past each other. Here are some interesting facts to look at before the high profile clash.
1) This is for the sixth consecutive time that Brazil have made it to quarter-finals. But unfortunately for them they have lost on previous two occasions at this stage of the tournament.
2) Colombia will be aware of the fact that Brazil have lost only once in their last 25 games. Their only defeat came against Switzerland in last August, having won 18 and drawn six. Not only this, Brazil are unbeaten in 41 successive matches at home.
3) As for as Colombia are considered they are unbeaten in last 11 games, winning seven and drawing four games.
4) This by far has been the best run for Columbians at the World Cup having won four matches surpassing their tally of wins in previous 13 tournament games combined.
5) Top scorer in the tournament with five goals and two assists so far James Rodriguez has scored in each of his last six outings for Columbia.
6) Columbia play their most attacking game in the second-half, having scored 10 out of their last 13 World Cup goals in the latter half.
7) It has been 11 years since Brazil last defeated Colombia. Their last four meetings have ended in a draw. The most recent clash between these two teams was in November 2012 which also ended in a draw.
8) Columbia have never defeated Brazil on their home soil and their last victory over Brazil came in 1991 in the group stages of Copa America.
9) Head to head these two teams have played 25 times each other. Brazil leads with enormous 15 wins, Columbia have just won on two occasions while eight games resulted in draws.
Click here to see the FIFA World Cup 2014 Brazil Schedule