Luis Suarez received a ban for four months and nine international matches for biting Giorgio Chiellini in the Italy vs Uruguay game in FIFA World Cup 2014. The Uruguayan isn't the first football player to have been giving a ban such as this, there are four other players who were hit with long bans:
KEVIN KEEGAN
Liverpool striker Kevin Keegan and Billy Bremner of Leeds United were embroiled in a punch up during the Charity Shield season-opener in 1974. Both players have been recorded to being the first British players to be sent off at Wembley. Both received 11-game bans.
ERIC CANTONA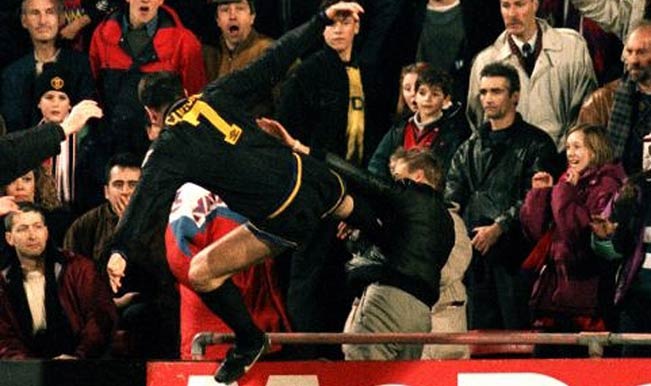 Former Manchester United striker, Eric Cantona who is remembered for his upturned collar goal celebrations is more remembered for one particular incident. One where the Frenchman reacted to abuse from Matthew Simmons – a Crystal Palace fan after being sent off during a 1995 Premier League game at Selhurst Park. Cantona lost his cool and kung-fu-kicked the fan for riling him up followed by a series of punches. The English FA banned him for four-months before later increasing it to eight months.
MAURO TASSOTTI
The right-back is remembered for receiving the longest ban in World Cup history as he was banned for eight games for deliberately breaking Luis Enrique's nose in 1994 with an elbow. The ban was so long that it ended his international career.
PAOLO ROSSI
You could always find Italians to be in and around such controversies. While at his club Perugia, the striker was involved in the infamous 1980 betting scandal known in Italy as Totonero, and as a result of this Rossi was disqualified for three years though this was later reduced to a two-year ban. Rossi always claimed to be innocent and be victim of an injustice. What's funny, is that he was selected in the Italian squad for the 1982 FIFA World Cup, even though he was adjudged to have been in poor shape. Rossi scored three memorable goals to shock Brazil 3–2 to qualify for the semi finals against Poland, where his two goals again won the match for Italy. In the final against Germany, Rossi scored the first of Italy's three goals as the Azzurri won the match 3-1. Italy became world champions for the third time and with his six goals, Paulo Rossi won the tournament's Golden Boot.
Click here to see the FIFA World Cup 2014 Brazil Schedule