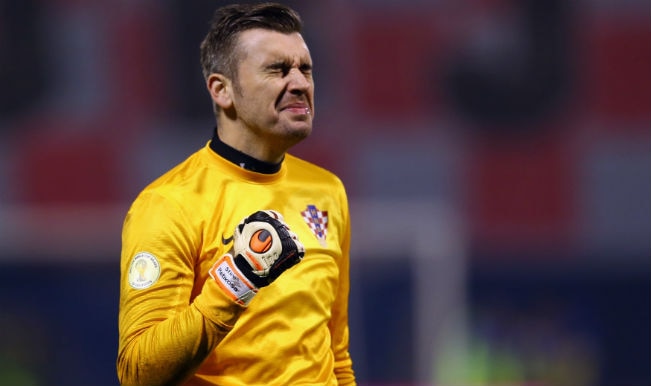 Rio de Janeiro, June 6: Croatia will play the FIFA World Cup opener against five-time champions and hosts Brazil and goalkeeper Stipe Pletikosa failed to conceal his eagerness for the match.
"All Brazilian players are capable to decide the outcome of the match in a few moves. Hulk is the one I'm most familiar with because we play in the same league. He had a fantastic season. He has a powerful shot and he can score from the distance. It's a challenge to play against the best players and that is a chance for me to prove myself," Pletikosa said, reports Xinhua.
"If I ever had feared any forwards that fear disappeared in the match against Brazil at the 2006 World Cup when I had against me players like Ronaldo, Kaka, Adriano and Ronaldinho," said the 35-year-old.
The Croatian team Thursday trained in the small Brazilian resort Praia do Forte and Pletikosa didn't show any signs of fatigue. (Read: Eduardo da Silva to sing national anthem of both Brazil and Croatia in World Cup opener)
Coach Niko Kovac's decision to skip morning practice because the temperature was too high was welcomed by the players.
"I expected even worse weather conditions. During the first practice it was very good. We all slept well and we didn't suffer from jet-lag. Remains to be seen how we will react to the conditions in Manaus," Pletikosa said in a press conference.
He along with Spain's Iker Casillas is the only goalkeeper at this World Cupto collect more than 100 caps for his national team.
Since 2002 World Cup he has been the first choice of all Croatian national coaches. He had a successful season in Rostov lifting the Russian Cup, the first trophy in club's history.
The last test before they take on Brazil will be Friday when the Croatians play Australia in Salvador.