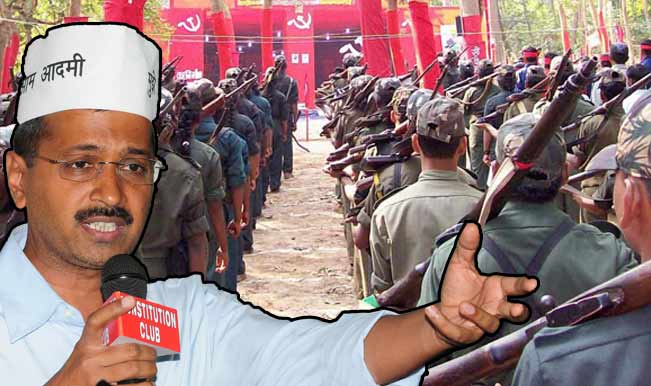 A little more than a few months ago, Subramanian Swamy earned a lot of brickbats amongst the holier-than-thou politically correct Indian media, when he equated the Aam Aadmi Party (AAP) as modern day Naxals. He was criticised for his lack of civility and consideration when discussing politics in a manner as one would do during a cocktail party over drinks. In a similar vein, Arun Jaitley recently termed AAP's street protests as being an embodiment of urban Naxalism. Sanjay Singh, one of the senior leaders of AAP was quick to quip that  during the time of emergency in 1977, the Janata Party had staged demonstrations and protests on a similar scale against Indira Gandhi's government, and hence a bit of self-introspection was in order for the BJP.
Now, while I would obviously not venture into the semantics as to the scale and scope of a demonstration to qualify for a political revolution, it is important to mention here that there is a sliver of truth in their statements.
AAP never seems to shun its garb of a pro-common man activist, seeing as how it was the single most contributing factor in its ascendance in the Indian political scenario. Public remembrance a few months ago was etched with recurring images of irregular pickets in front of a Lutyen-era government building in Delhi, with signs demanding overthrowing of the ruling establishment – common people marching into the teeth of nozzles of fire hoses and lathis in their quest for a political revolution near the India Gate. Can't this be said to be a cut-scene straight from a movie based around Indian leftist student politics of yore? This, although seems to be a very legitimate way of getting their points across to those in power, has been overdone and is rather being utilized ad nauseam by the AAP to suit its ends.  (Read: Exposed: Arvind Kejriwal-Punya Prasun Bajpai's dirty 'revolutionary' nexus).
While this formula presented the AAP with success when it came to assuming power in New Delhi, it is relevant to mention her that the voters may have never voted for AAP under normal circumstances. The AAP was merely, suffice it to say, the recipient of the nation's fear and angst against the tyrannical ruling dispensation over the last 5 years.  The switch from lofty promises to not-too-uncommon excuses in the AAP smacks of incompetence and experience when it comes to delivering on governance. The rising wave of change ushered in by the party leadership has withered down to a feeble clasp of mediocrity. The AAP, just like the Maoist-leaning left parties of the early 1970s has lost credibility by celebrating a few minor feats that are anything but revolutionary. On some of the more grave issues, the AAP just like the CPI(Maoist) of the 70s displays lack of coherence and concurrence. Kejriwal along with his cohorts still continue on their path of protest politics, staging a sit-in against their own government, to the extent of holding the government's national priorities hostage with its views.
It needs to be reiterated with a great deal of sorrow that this all seems a rerun of the political situation in the run-up to the Emergency era when the gun-wielding left promised so much to so many, only to under-deliver on its promises. A comedy of errors is being played over again like a broken record and this wave of hysteria, just like the last time, is proving to be devastating to the millions of young, impressionable voters who make up the nation's political fabric.
It won't be surprising in the near future that the numbers that guaranteed the AAP electoral success, have resigned their fate to political apathy, like so many generations of lost, disenchanted youth before them.
Now if we were to hark back to that forgettable phase in the country's history when the leftist political revolutionaries were known for creating a lot of noise with their brazen acts of aggression against the establishment. They succeeded in creating a very romanticized and idealistic picture by setting things on fire and getting into physical confrontations with law enforcement and making it appear that revolution can indeed be brought "through the barrel of a gun". While this certainly did give off the perception of a serious, urgent situation, a material change in governance could never be realized. (This is pretty much what the AAP did recently, when it staged a violent protest in front of the BJP police headquarters, and the Delhi police had to be called in to employ batons and water cannons!!)
There is an uncanny commonality in the manner in which AAP is going about with its business. Kejriwal has only bettered his record when it came to making confounding statements over one issue or the other. While he has succeeded in bringing together intellectuals, secularists, moderates on the party's anti-corruption agenda, his mantra of voter engagement is falling through. Taking populist stances will only get you attention. Conveying your message across in a rational and tangible manner is completely different.
Much like the rousing cries of transformation made by the Maoists, Kejriwal's party claims to defend the common man against deep-seated corruption and state-industry collusion. The only difference is that Kejriwal was wise in embracing direct democracy and bringing swift change through ground-breaking legislations like the Lokpal Bill.
On a closer look, he is spearheading yet another left-wing movement where his main plank of defense rests on capitalizing on popular surge of discontent over the corruption of country's political class.
There seems to be no structural basis in the AAP's policies, which can also be said, to a lesser extent of the Maoists as well.
Middle-class moralism was the defining central feature of both the Naxalbari-Maoist movement and the AAP's programs. Their ends and means of providing for a pragmatic and transparent governance are very much similar except that Kejriwal has gone ahead and focuses on solutions, rather than stale old ideologies. However, thanks to his inexperience and populist compulsions, the ship has sunk much before it could make its maiden voyage. Its sloppy and careless handling of the responsibility to run a state shows that it never had the expertise on the more important issues, and it only ended in messing up things.
To conclude, I must say that while the AAP may have had the proverbial beginner's luck when they made their initial forays into politics, their inability to practice the art of politics and failure to convert their promises of democratic governance into everyday administration has ensured their downfall.
Denouncing the establishment and using a broad brush to taint everyone is the common practice of any anti-establishment force, and the AAP is no exception to the convention.
They, much like the Maoists, should have trained their potential key leaders in the art of governance and administration. Indoctrination without the means for implementation can be devastating indeed, as how the crackdown during the emergency went onto show.