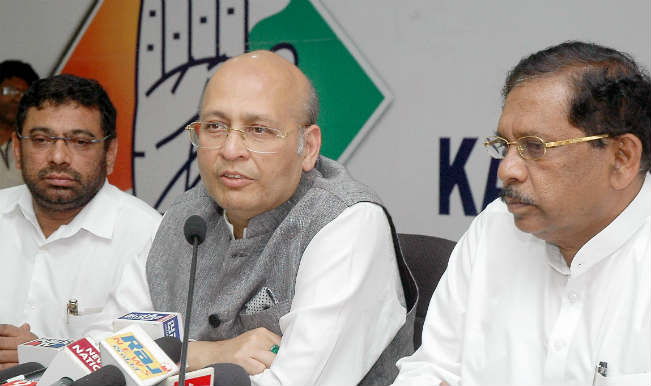 New Delhi, July 22 : Against the backdrop of allegations of "improper compromises" by three CJIs during UPA rule, Congress leader Abhishek Singhvi today advocated restructuring of the collegium system. "I personally hold the view that the collegium system needs to be restructured. Even the National Judicial Commission is also a collegium of a kind. It is supposed to be a broader based one for objectivity and transparency. That is my personal view," he said outside Parliament House.
He was asked whether there was a need to review the collegium issue. Singhvi, an eminent lawyer, said, "There is a Bill in Parliament for a considerable time. Since it is a Constitutional Amendment Bill, these things do take time." On allegations levelled by Justice Markandey Katju, the Congress MP said, "I think it is important to keep a sense of balance, a sense of restraint after all Mr Justice Katju, has also raised a lot of question marks. The fact that each of the person named by him …Justice K G Balakrishnan, Justice R C Lahoti, except Justice Y K Sabharwal, who has not made any comments, and even Mr Bhardwaj have denied most of his statement."
Asked whether Katju did this to curry favour with the NDA government, Singhvi said, "I would not make any loose comments. I have called for restraint. Basically there are four principal actors of which three of them totally and one largely denying the insinuations and various innuendos". "You have a timing of nine years delay so these are issues. I do not think you can raise this to a level of corruption issue," he said.
Supporting the move to restructure the collegium, Singhvi said, "I endorsed the issue of restructuring the collegium for larger purposes and I hope the pending Bill not only gets endorsement from Parliament but gets unanimity. Unless Parliament shows unanimity cutting across party lines such a bill will not be a success".