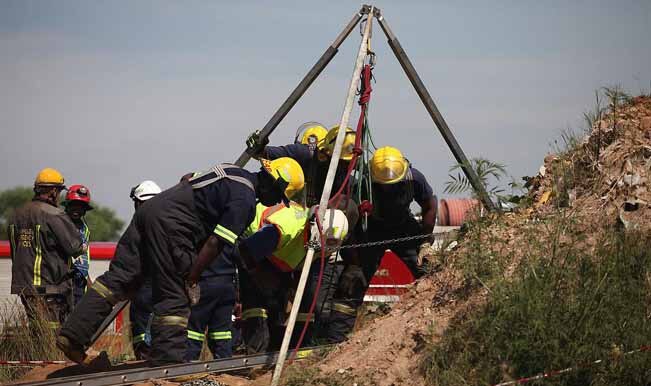 About 200 illegal miners were still trapped underground in an abandoned gold mine east of Johannesburg but were refusing to be brought up for fear of arrest, authorities said Monday.
Rescuers suspended the search for the miners Sunday night after 11 of them were brought to surface.
The rest of the miners refused to come to the surface, reportedly fearing arrest.
The rescue operation has come to an end and would not resume, officials said, Xinhua reported.
"After the 11 illegal miners have been brought up, the rest heard that they would be arrested and said they did not want to come back up," said Werner Vermaak, spokesman of emergency agency ER24.
The specific number of miners still trapped underground remains unclear. But according to those who were rescued safe, the miners underground were fine, at least for now.
Water has been lowered to the deep tunnel where the miners are trapped, and there was air coming from ventilation, said a rescued miner who refused to be named.
The incident has again highlighted the growing concern about illegal mining in the country. In March 2012, at least 20 illegal miners were buried alive after a rockfall hit a closed gold mine in the eastern South African province of Gauteng.
Early last month, 40 illegal miners were rescued after being trapped at a mine shaft, west of Johannesburg. The mineral resources department in a statement Sunday night voiced concern over the seriousness of illegal mining in the country.
"The issue of illegal mining remains a serious concern to the department, and we continue to work with law enforcement agencies to handle the matter," the department said. The department said there has been some improvement in combating illegal mining.
"We have seen some improvement since the formation of illegal mining forums. However, the matter will continue to receive the serious attention it deserves," it stated. IANS