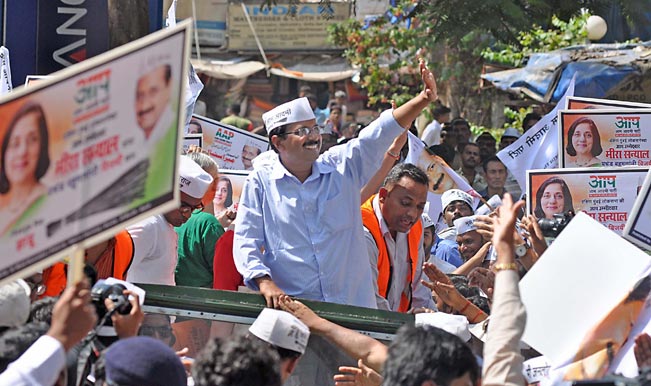 At a time when many of political analysts are saying that Aam Aadmi Party (AAP) would impact on 16th Lok Sabha election, AAP is losing the ground. From people leaving the party to dissent in the party over party tickets, there are lot more conflict in AAP. AAP's current political strategies to gain public attention have made many of its supporters annoyed. Here we present the chain of events which are the factors of party's downfall and it clearly indicates that all is not going well for AAP.
Dissent within party: AAP wants its leader Shazia Ilmi to contest from Rae Bareli against Congress president Sonia Gandhi. But Shazia has openly expressed her displeasure over it. She tweeted, "I am not contesting from Rae Bareli. I never agreed to nor do I now…I've been denying this for the last two months." In addition to it, there are reports that Kumar Vishwas too has conflict with other party leader over ticket distribution. Although both these leaders have denied any conflict with party but it indicates that there is some disagreement within party over ticket distribution.
Arvind Kejriwal's priorities: Yesterday report came out that after the trip from Andheri to Churchgate by local train, Arvind Kejriwal has become sick. Hence, he cancelled all his rallies in Vidarbh areas. But he would attend fund-raising dinner. This raised the question over the intention of Kejriwal to visit different states.
Off record clip: The clip of off the records conversation between AAP leader Arvind Kejriwal and journalist Punya Pasun Bajpai created huge controversy. In the clip Kejriwal can be seen saying journalist to promote some part of interview as it will help him. It also raises question over Kejriwal's stand on privatisation. The clip caused huge criticism over Kejriwal and media too.
Drama and violence: The strength of AAP was that they had got support from common man but now AAP's political strategies has pushed many of its supporters away from party. From Delhi to recently in Mumbai, chaos happened due to AAP leader Arvind Kejriwal's dharna and road shows. It all disturbed the routine of common man and many expressed their displeasure over AAP's political drama. Apart from this, AAP supporters have been booked for violence in Gujarat and Mumbai. In Gujarat, AAP supporters' protest led to clash between AAP and BJP workers. While in Mumbai they vandalised metal detector at Churchgate station. The violence made by AAP workers has made displeasure in masses.
All these events raise questions on party's ideology and its intentions. AAP has got popularity in a short span of time but if they would not clear their stand and not change their strategies so soon they will lose the grip over common man.