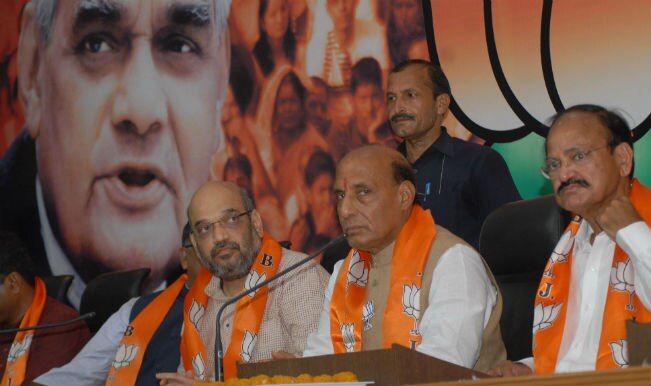 New Delhi, Jul 9: Amit Shah, a close aide of Prime Minister Narendra Modi, on Wednesday became the new BJP chief, Union Home Minister Rajnath Singh announced here.
Rajnath Singh said that he tendered his resignation as party chief to the BJP parliamentary board, which decided that Amit Shah will head the Bharatiya Janata Party. Addressing a press conference, Rajnath Singh lauded Amit Shah's "management skills" and credited him with the BJP's success in Lok Sabha election in Uttar Pradesh.
Amit Shah played a key role in the Bharatiya Janata Party's landslide victory in the Lok Sabha election in Uttar Pradesh where it won 71 of the 80 seats. Known to be a sharp political strategist, the former Gujarat home minister remains Modi's most trusted political aide and masterstrategist.
Amit Shah, who had a plastics and printing business, met Modi in the late 1980s. It was earlier said that Shah, who is currently BJP's national general secretary, may contest from Vadodara Lok Sabha seat that was vacated by Prime Minister Narendra Modi who retained Varanasi constituency.