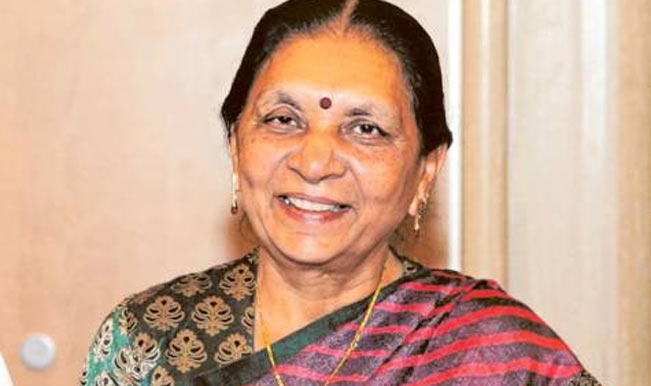 Ahmedabad, May 20: Anandiben Patel, often called the Iron Lady of Gujarat is the top chairperson in Gujarat when Narendra Modi is out of the state. Her profile reads that of a Educationalist, Social Worker and a cabinet Minister for Gujarat Government holding up to five portfolios. Known for her no-nonsense, stern and bold persona, her style of working is very audacious. While Modi is set to take the oath as the next Prime Minister of India, it is speculated that Anandiben will be the next Chief Minister of Gujarat.
Anandiben hails from a modest background. She was born on 21st November 1941 in Kharod village of Vijapur district. Her father was a teacher and her parents were quite adamant on getting her educated when sending girls to school was considered a taboo. Studying in a boys school during her 5th & 7th grade as the only girl, made her realize the importance of education in life.
Not many know this fact, but Anandiben and Narendra Modi shared the same high school. She moved to N.M. High School for her high school studies which had only three girl students. As a student she was an athlete and remained a district level champion for three consecutive years. Even when she joined college for studying B.Sc in 1960, she was the only girl in the entire college. She has excelled throughout as a student in her studies.
Anandiben later became a teacher and taught at Mohinaba Girls' School for over 30 years. For her excellent hard work and commitment, she was elevated to the post of the Principal.
She has been quite brave and tough since her childhood. Once she jumped in the Sardar Sarovar reservoir to save two girls who were drowning during a school picnic.
Anandiben's first steps to politics were when the famous 'Ekta Yatra' of Murli Manohar Joshi managed by Narendra Modi took place in 1992. The yatra had many terrorists' threats, yet she braved the situation and joined as the only woman leader. A few months later when Modi was elevated to the position of General Secretary of the Gujarat BJP, he promoted her to the president of the BJP's 'Mahila Morcha'. Those days, Bharatiya Janata Party did not have any other woman leader than Anandiben Patel, and hence she rose to prominence and won herself a Rajya Sabha nomination in 1994.
Anandiben remained the Member of Parliament till 1998 only to quit fighting the assembly elections in Gujarat. She won her first elections with a small margin of 3,029 votes in Mandal. And since then there's no looking back; she got re-elected as MLA from Patan this time. Educations ministers didn't have a knack of getting re-elected at that time, but she surprised many and got re-elected. She again won (third time) the assembly elections from Patan and was again given the portfolio of education ministry.
During her successive and celebrated terms as a education minister, she pioneered the "Kanya Kelavani Shala Praveshotsav' program in order to increase education among the women sector. 'Beti Bachao' was another program launched by the education dept. to improve the girl child ratio in Gujarat.
Anandiben has sided with Modi even during his rough times. When Modi was banished from the state during the 1996-2001 period, she had no problems in being sighted along with Modi. She has a clean track record and under Modi's regime has a proven timeline of huge achievements. Under her tenure as an education minister, the girl drop rate fell to two percent in 2013 from 37 percent in 2001. She has been credited in restructuring the transfer and posting in the education department by instilling the use of technology and removing the middlemen.
Earlier there were huge bribes paid to the middlemen in order to get posted or transferred to desired place. Over the years, Anandiben has proven herself to be able administrator and a woman who shares cordial relationship with all her ministers. She is second only to Modi in Gujarat. Her decisive and determined approach is what has taken her this far. She is a result-oriented person and never looks for making favours to any individual.
In a nutshell, Anandiben's stature in the Gujarat government is; if 'Saheb' stands for Modi in Gujarat, 'Ben' refers to Patel.