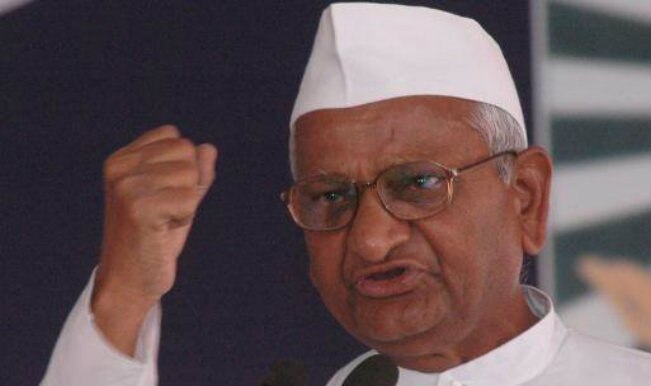 New Delhi, Mar 14: Two days after he left Mamata Banerjee red-faced, anti-corruption crusader Anna Hazare today said he had skipped the 'joint' rally here with the Trinamool Congress chief because even 4000 people had not come to attend it and he had been misled.
He expressed support for Banerjee but ruled any backing for her party in the upcoming Lok Sabha elections. Breaking his silence on his absence at the much-hyped 'joint' rally at Ramlila ground on Wednesday, Hazare told reporters here that he had skipped it as there were few people in the audience.
Earlier, his aides had claimed that he could not attend the rally because he was "unwell". "When I came to Delhi… I found out by 12 noon that there were only 2,000 to 2,500 people in the rally. Then I checked at 1 pm and then 2 pm. I thought that something is amiss. It is the same Ramlila ground which teemed with people for 12 days (during his agitations earlier) but this time, there were not even 4000 people.
"I was then called (to the venue). This was the mistake. This was the dhokhadhadi(deceit)," he said today, explaining why he did not attend the rally for which he had specifically come from Maharashtra a night earlier.
Naming one of the organisers for misleading, Hazare said he was told that it was Banerjee's rally while the Trinamool chief was told that she was attending Hazare's rally. "She was misinformed and I was misinformed," he added. His absence at the rally had left Banerjee embarrassed as the event to mark her arrival on the national scene had turned out to be a damp squib.
Hazare, who had earlier endorsed Banerjee for the Prime Ministership as she had accepted his 17-point programme, today said respected her but did not support her party. Blaming the party system for several ills in the Indian democracy, he said he would now travel and spread awareness among the people.
He said a few days back he had gone to the Election Commission to ask under which system political parties were given recognition when there is no mention of parties in Constitution. "They said it has been going on for many years and we cannot do anything now," he added.
He said due to competition among different political outfits criminals were given tickets. Political groups capture power, indulge in corruption, casteism is promoted and scams occur, he said. Hazare said that there were some good people in parties but added they could not do much at present as they were "remote-controlled."
He wondered what kind of freedom are people experiencing when land can be acquired. He said he received many applications from people who want to contest polls but not many had done much for the society. Referring to the Lokpal issue, he said after a long wait the law had been enacted because of public pressure. Hazare said that on March 23 he would take a vow at martyrs' memorial at Hussainiwala to work for the nation.