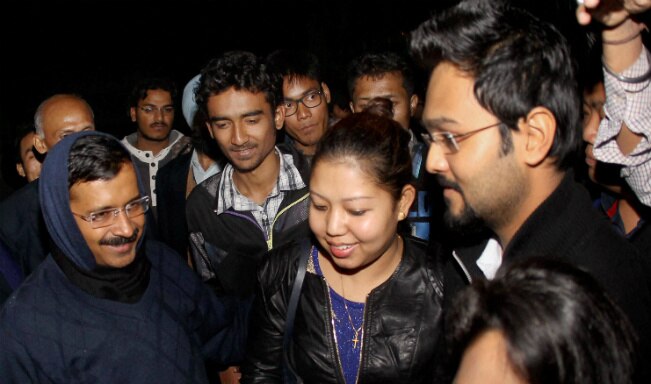 New Delhi, Feb 1: Reiterating that strict action will be taken against culprits involved in the death of Arunachal Pradesh student following a scuffle in South Delhi's Lajpat Nagar market, Delhi Chief Minister Arvind Kejrwal on Sunday said Delhi belongs to everyone in the country, and added that it is the duty of a responsible government to ensure safety to all people.
The Delhi CM went on to say, "The Delhi Government had immediately ordered a magisterial inquiry in the case after it came into the light. Today, many students belonging from Northeast states met me and I have assured them that strict action will be taken, once the report of magisterial inquiry comes out," Kejriwal said after meeting a delegation of northeast students. "If anybody belonging to any state is targeted anywhere, then it is dangerous for the unity and harmony of the country. Delhi is the capital of our country. It belongs to everybody. It is the responsibility of a responsible government to provide safe environment to the people of all states," he added.
Kejriwal also said that an example can be set in this case and in front of all people. Reiterating that Delhi Police is not under the Delhi Government, Kejriwal said, "If there are some lapses from the side of Delhi Police, then I will go to Lt. Governor and will ask for strict action against such officers." "Our government is ready to make this case an example. Whatever our government can do, we will do that. We will do everything to maintain pressure on the Delhi Police. If it doesn't happen in this case, then such incidents will keep on happening," he added.
Arunachal student Nido Taniam died after he was beaten with sticks in South Delhi"s Lajpat Nagar area. He had reportedly gone to Lajpat Nagar on January 29 in search of an address, and was allegedly mocked by someone at a shop for the style of his hair. Arunachal Pradesh Chief Resident Commissioner Avinash Mishra said that the boy, in a fit of rage, broke a glass at the shop. "It is a general tendency that whenever people from North-East come, people in Delhi mock them. It has become a practice. So, the boy became angry and he may have punched the glass and it cracked, for which he paid the money also. Because of this, there was a fight. He was alone, and people beat him with sticks, and he was injured," he said. "Police came and took him to Lajpat Nagar police station, and amicably it was settled, and the boy was handed over to his uncle, and they went home," he added.
Mishra further said that the boy"s friends rushed him to AIIMS the next day when he didn"t wake up, where he was declared dead. "In the meantime, there may be some vital internal injury on his head. His friends said that he slept at night, and in the morning they realized he is still sleeping. His friends rushed him to AIIMS, they declared him dead," he said.
(ANI)