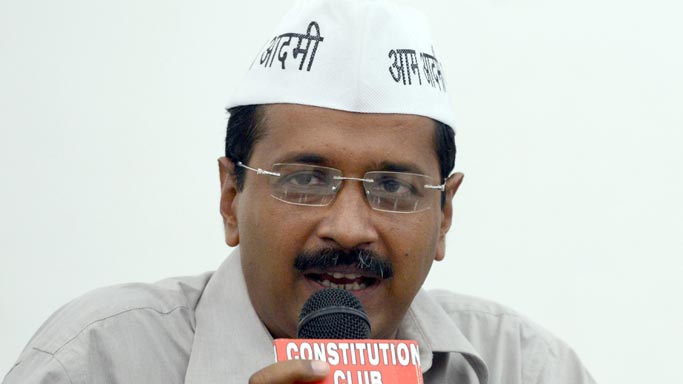 By Shikhar Jiwrajka
The Aam Aadmi Party, in Arvind Kejriwal's leadership would fight the upcoming general elections, says Yogendra Yadav. Leadership…. What? The leader you brag about couldn't survive a mere 50 days of his tenure as a chief minister, and you call him a leader? A leader is a person who is of, by, and for the people.
Roaming the streets of Delhi to know about people's verdict, that should we form a government or not, seemed a nice move only until YOU decided that you'll take support from Congress. Is this a leadership quality, when you run your entire anti- corruption crusade against the Congress party and eventually end up joining hands with them? Is this leadership when you tell that you should be given evidence to order a probe on Sheila Dikshit, when you're asked about filing a FIR her. What happened to 370 page proof? You mean to say that there was only a scam of 92 crore?
The entire anti-graft campaign against the Sheila Dikshit government and the BJP, you end up filing a FIR against Mukesh Ambani? Is this what a leader does, running away from promises?
We did this; we did that in such a short span of time. What promises you fulfilled? The hollow promises you made on streets about free water and 50% electricity rates. Was it a tactful move by subsidizing it till a limit and paying for the full if you exceed that limit? Weren't you aware beforehand that you just wouldn't be able to fulfil those promises or were you blatantly lying?
Delhi will have a special women task force? Aha, the promise seemed quite impressive, until like other promises it turned out to be farce. Being silent over the Danish women gang rape case and to make matters worse creating the entire hullabaloo over the Khidki Extension case, just to shield your spammer law minister?
Delhi police humari nahi sunti, hum toh dharna denge!! So didn't you created another drama and criticised the then present government over the lack of control over police. What changed? Being fully aware of the Republic Day celebrations, you first tell people to not to join the protest and the very next day we see another nth number of U-turn by you, asking the people of Delhi to join?
49 days of your government and so much drama? A government has to walk the talk. Instead of fulfilling your pre-poll promises and making sure that there is a change which the aam aadmi voted you to power, you chose to run away. Simply running away from responsibilities and blaming the opposition is another act of fallacy. If you couldn't handle the heart of India- Dilli for even 50 days being the chief minister, then does it even make sense to think what will your party do nationally?
Screaming and governance are a different ball game. Hope the short and dramatically ended stint of yours would have taught you that.
You quit over Jan Lokpal? Wasn't the Lokpal Bill already passed in the Parliament? Weren't you aware of it that there could be amendments to it or the greed to Prime Minister's chair got the best of you? Or was it inadequacy to fulfil your promises and hide your lies and failures?
Bacho ki kasam hai… Remember? Well, it's good that it's over. But sadly, this nuisance is going to spread everywhere now. What the Aam Aadmi Party drama has done is, it has left the people disheartened. Their hope and faith in a revolution have all went in vain.
So, the question which stands is, Was it Lokpal or Lok Sabha? We know that already, but why deceit?