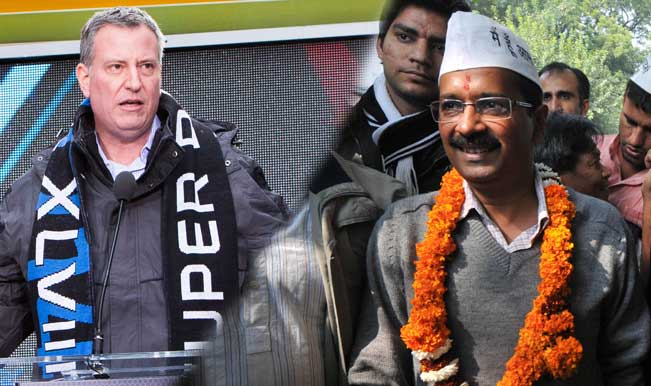 By Parveen Chopra
At the stroke of midnight this New Year,  Bill de Blasio became Mayor of New York City after a landslide victory on the progressive agenda of addressing economic and social inequalities in the No. 1 city in the world.  A few days before that, Arvind Kejriwal was sworn in chief minister of Delhi (which is more like a mayor position since Delhi is a city state) after a spectacular showing at the hustings by his barely one year old party formed to address common man issues.
More than two months on, it is interesting to review the progress of the two leaders who suddenly stormed the scene and how their idealism and radical agendas are faring when tested in the hotbed of political realities.
Arvind Kejriwal, as we know, resigned as chief minister after a mere 49 tumultuous days in office. But his stature has only grown nationally. His clarion call to curb corruption has forced other parties to shy away from fielding untainted politicians in Lok Sabha elections this April-May. Starting a membership drive, his Aam Aadmi Party (AAP) crossed the one crore mark within days. The deep craving for change from self-serving politics and poor governance has even crossed borders – in Pakistan too a political outfit named Aam Aadmi Party has been born.
Now that AAP, founded by Kejriwal, plans to contest in up to 300 out of total 543 Lok Sabha constituencies, it may win 40-60 seats — an estimate that will be considered over-optimistic by many, but then nobody had given AAP 28 seats in Delhi assembly. While the Congress party is already emasculated, AAP is mainly upsetting the apple cart of Bharatiya Janata Party (BJP) that has pinned hopes on forming the next government in India.
When early this year, BJP's prime ministerial candidate, Narendra Modi was getting wall-to-wall coverage in the media, Kejriwal ended his free run by what some called gimmicky initiatives like trying to hold an assembly session in Ramlila Grounds or dramatically cutting water and electricity tariff.
A BJP leader has since called Kejriwal 'dramebaaz'. Some media pundits called him truant for resigning as chief minister, but he did so taking a principled stand after getting shut out by Congress-BJP nexus on Jan Lokpal (ombudsman) bill. Instead of hurting the party, his decision  has won it more ground.  Even in Delhi, the AAP is set to win four of the seven Lok Sabha seats, according to a recent survey by NDTV. BJP, which was the single largest party in the state elections, may get only two Lok Sabha seats.
Like Kejriwal, Mayor de Blasio has not had it easy. New York State Governor Andrew Cuomo, a fellow Democrat, threw cold water on his proposed legislation that would give New York City permission to set its own minimum wage, arguing that different minimum wages in the state could create a chaotic situation. But then bringing such bread-and-butter issues for millions of families into public square enhances the chances of eventual new legislation fixing the problem. Cuomo is also opposing the mayor's drive to raise taxes on those earning more than $500,000 to pay for universal prekindergarten and after-school activities. Again, the move is not aborted, now there is a likelihood of the pre-K program getting state funding.
De Blasio ran his successful mayoral campaign on the theme of 'tale of two cities' – a catchphrase harkening to the inequitable Dickensian times  and  pointing to the widening chasm between the rich and poor. The meme was picked up by other politicians fighting elections elsewhere in New York State and beyond. The issues de Blasio was focusing on got national airing at the mayors' meeting with President Obama where de Blasio had a privileged seat at the table.
Like de Blasio, Kejriwal has a strong connect with the man on the street  — note the simplistic name of the Aam Aadmi Party or  its poll symbol of broom symbolising its vow to sweep away the entrenched and systemic corruption and deliver the citizenry from a seemingly invincible politician-bureaucrat-corporate nexus. Given that political parties in India are so dependent on funds from corporates, Kejriwal has dared to take on the issue of corporate corruption, dragging in even the name of Mukesh Ambani, the richest Indian on earth, thus captivating mindspace in India.
While shaping public discourse, both De Blasio and Kejriwal have, above all, strengthened democracy in the oldest and largest democracies respectively in the world. They have managed to re-energize the marginalised and the underprivileged, kindling hope that change is possible through engaging in the political and legislative process, thus obviating the prospect of change coming from the barrel of a gun or insidious insurgencies.
Both these newly minted leaders in two different parts of the world come from average backgrounds. Kejriwal graduated from Indian Institute of Technology (IIT) and joined the revenue service. He first came into limelight for getting the Right to Information (RTI) Act enacted. Three years ago he became the spearhead of Anna Hazare's anti-corruption Jan Lokpal movement, which made international headlines.  Kejriwal broke away from Hazare on the issue of joining active politics.
De Blasio's did not have the support of his father since age eight. His wife, activist and poet Chirlane McCray, is an African American. They lived all along in a middle class neighborhood in Brooklyn. His civic activism career took him to become the Public Advocate of New York City before he stood for mayor. Quite a change for the city ruled for 12 years by the billionaire Michael Bloomberg.
Both de Blasio and Kejriwal are young –  De Blasio is 52 and Kejriwal, 45 – by the standard of average age of politicians. Both are tipped to play a prominent political role in their countries.  While for 2016, Hillary Clinton looks unbeatable, who knows de Blasio may take a shot at President in 2020.  Kejriwal's name already is taken in the same breath as Narendra Modi and Rahul Gandhi when discussing prime ministerial prospects.