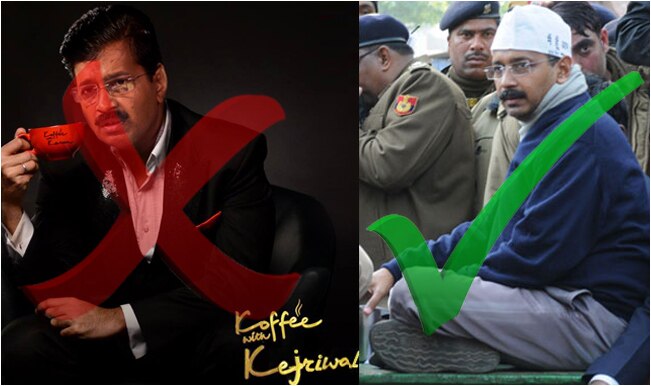 If you can't beat them join them. That seems to be the mantra Arvind Kejriwal and his Aam Aadmi Party is following. To take on Congress, BJP in the coming Lok Sabha elections, Kejriwal and his army of jhadu wielding advisors have decided to launch a novel campaign- Dharna with Kejriwal. The campaign is in line with the party's motto – be different.
But insiders say the party was left with no choice as BJP's prime ministerial candidate Narendra Modi had already opted for favourite Indian beverage – tea and Congress supporters launched Rahul Gandhi line of milk – RaGa. The only pan India appealing drink, other than those available as pint, peg or quarter and get much wider acceptance,  left for Kejriwal that goes with his no-nonsense attitude was coffee. But having seen what the guests do on the popular show Kejirwal dropped the idea of Koffee with Kejriwal. The plans were in very advanced state and it was also decided to serve only black Koffee without sugar. There was no provision for milk as its getting endorsed by Congress vice-president Rahul Gandhi and no sugar keeping in mind the fact that host Arvind Kejriwal has diabetes.
Insiders say the show was initially titled Black Koffee with Kejriwal but after a strong message from the AAP leader who cannot stand the word black, it was decided to go ahead with the reworked title. Is this why he refused the Black Cat security cover or watch Sanjay Leela Bhansali's Amitabh Bachchan-Rani Mukherjee starrer Black because of the title?
Kejriwal was not too sure about the campaign and his only worry was the elitist tag attached with Coffee. To prove his point he showed AAP workers tea and coffee ads where celebrities were endorsing coffee but unknown models or out-of-work actors were promoting tea.
This is when the think-tank came up with the Dharna with Kejriwal. The Aam guests will get a chance to grill the runaway chief minister on his future dharna plans, issues which needs dharna and how much waiver they will get if they join hands with him. The Aam guest list is a close guarded open secret – anyone who knows how the CNG pricing is done in India has been kept on a forever waiting list. Any person who can drop big names or has vague ideas on how to frame them gets to spend extra time with AAP leaders. On Kejriwal's special request medical experts to advice him how to beat the brutal heat will grace the show.
Though the AAP leader prefers occasional glass of beer and would not mind one as campaign heats up, the party decided against it as it will send a wrong signal to young followers. So which Kejriwal gets your vote – one with Koffee or the Dharna? Do let us know in the comments section below.
Illustration: Amit Modak
(Disclaimer: This article is pure work of fiction and has nothing to do with campaign strategy of any political party).