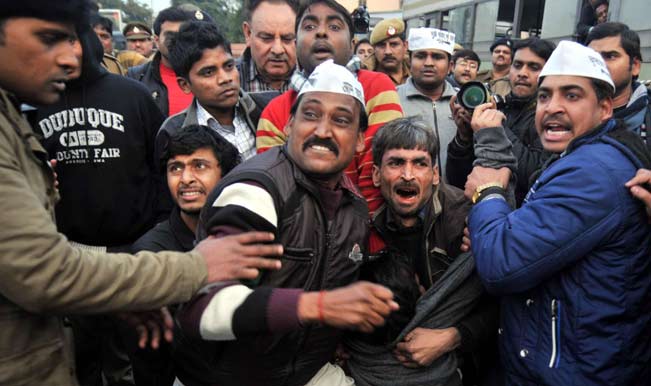 With Arvind Kejriwal having travelled by train and arriving at Churchgate in the heart of Mumbai's bustling financial center this morning, there were reports of the Door Frame Metal Detectors (DFMD) being damaged at the railway station. But this may actually benefit the millions of aam aadmi commuters that travel through the railway station every day.
The DFMD's were put up in the aftermath of the July 11 train bombings in Mumbai. Railway authorities had in fact drawn up plans to install these DFMD's across entry points at all important railway stations and even had plans to conduct airport style security checks of all commuters wanting to use the railway line (Read here -Frisking begins at CST, Churchgate). That plan though, was gone in 12 minutes flat (Read here – Gone in 12 minutes: Frisking drive at rly station ends in fiasco) when the frisking drive at the same Churchgate station created a massive fiasco for the railways, with commuters screaming and pushing.
In 2012 when the railways temporarily removed these DFMD's (Read here -Commuters 'walk free' at Churchgate) from the entry points at Churchgate and CST railway stations, thousands of commuters heaved a sigh of relief that they were gone. Passengers were happy they now had a "clean and clear" right of passage at the railway station.
The railways had themselves stated that these DFMD's aren't very reliable, that they'd tend to break down due to the dense crush load that Mumbai's suburban railway line is used to, and the fact that no one manned them made them utterly useless. One police officer quoted in the DNA story above clearly stated "We don't have enough DFMDs to ensure that every entrance is covered, and that makes them redundant. It only obstructs the flow of people at places like Churchgate and CST. It is better to use the funds available in buying sniffer dogs or closed circuit television cameras".
Why then are we crying over the damage caused to what is clearly only an obstruction to the Aam Aadmi of Mumbai? It seems to me, more like good riddance to what was trash.