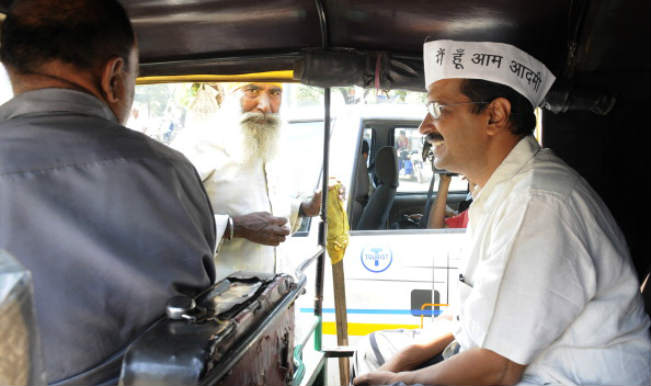 After resigning from the post of Chief Minister of Delhi, it was very clear that Aam Aadmi Party and his leader Arvind Kejriwal will put all their efforts for campaigning in a sensible manner for Lok Sabha elections.  But Arvind Kejriwal has adopted a way which only creates chaos and makes problems for local people wherever he goes.
Few days ago, we have seen a big political drama in Gujarat and now the Drama Company of Aam Aadmi Party (AAP) will visit Maharashtra and Karnataka too. When the protagonist of the drama, Arvind Kejriwal visited Gujarat, he was detained by Gujarat police because his road show violated the model code of conduct. In protest AAP workers gathered outside BJP headquarters and it led to the clash between both party members. It also created problems for police department for maintaining law and order.
But Arvind Kejriwal did not care about it and decided to take further step so that he will be in public eye. Arvind Kejriwal decided to meet BJP's prime ministerial candidate Narendra Modi with 16 questions. When his convoy was stopped near Sargasan village because they did not have an appointment to meet Modi, his aide Manish Sisodia immediately set off for Modi's house to seek an appointment but could not get it. It all brings questions on Arvind Kejriwal's intentions. If he really wanted to meet Narendra Modi, why didn't he take an appointment before going? Isn't it stupidity? It clearly indicates that the theme of the drama was to draw public attention, nothing else.
Now the drama company of AAP will roam in Maharashtra and Karnataka states. According to the schedule, as hero Kejriwal will arrive in Mumbai (Maharashtra), he will take auto rickshaw to reach Andheri railway station. From there he will take local train to reach Churchgate station. Thereafter, he will visit different areas and hold the road shows. He will address the rally too.
Everyone knows in Mumbai traffic is a huge problem and traffic police department has to work hard daily to avoid traffic jams. However Arvind Kejriwal if uses auto rickshaw to travel will get public attention but Kejriwal and his convoy of his thousands of supporters would cause of traffic problem for local people of the city. His plan to travel by local train reminds us the incident when Rahul Gandhi travelled by local train.
Mumbai's local train can been seen always full of passengers and if Kejriwal tries to use it, it might create problems for regular commuters. These moves of Arvind Kejriwal have become headache for local police department of the city where he visits. They have to provide security to Arvind Kejriwal as well as have to make sure that his programs won't affect law and order in the city.
But Arvind Kejriwal doesn't think about it. He must realise that such kind of drama will draw media but it will create a gap between his party and common man whose work is disrupted by his dramas. No wonder, if Drama Company of AAP would create another chaos in Mumbai or anywhere they would go. Drama Company of AAP should think about it and should focus on real issues instead of just being in media by their political dramas.