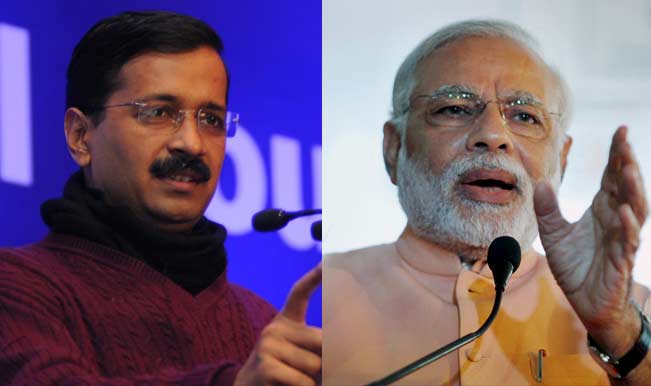 Mahatma Gandhi once said, "First they ignore you, then they laugh at you, then they fight you and then you win." Looking at the recent turn of events, Arvind Kejriwal and his Aam Aadmi Party seem to have graduated from the second phase and are now on the threshold of the third.
Whether he goes all the way or not is the moot question but for a while now, Kejriwal has been challenging the traditional rules of the game and he took it to another level when he decided to land up at Narendra's Modi's doorstep with a list of 16 haunting questions. It scrutinised the tall claims made by Modi's public relation agents, his private jets, the soft corner towards Ambani and Adani, the decline in Agriculture growth and much more. Quite a few political pundits rubbished it as a publicity stunt. However, one should not turn a blind eye towards the fundamental point of Modi's reluctance to answer questions. In that sense, the idea to enter Modi's den and question Gujarat's growth model was a masterstroke. (Read: Exposed: Arvind Kejriwal-Punya Prasun Bajpai's dirty 'revolutionary' nexus).
P Sainath has described the growth model of Gujarat as, 'the biggest Public Relations con-job of our time'. Sainath's words can be backed up by the IAMR Planning Commission report, which shows that Gujarat is 11th in the Human Development Index. The Planning Commission study done in 2013 also manifests that it is one of the slowest as far as poverty reduction rate is concerned. Between 2004 and 2010, Gujarat witnessed 8.6 per cent reduction in poverty but between 2010 and 2012, the percentage of poverty reduction has declined to 6.4 per cent, which is below the national average of 7.9 per cent as well. On top of that, states like Chhattisgarh (8.8 per cent), Bihar (19.8 per cent), Haryana (8.9 per cent), Maharashtra (7.2 per cent), Punjab (7.6 per cent), Rajasthan (10.1 per cent), Uttar Pradesh (8.3 per cent), Uttarakhand (6.7 per cent), and West Bengal (6.7 per cent) have seen better reduction in poverty. This is not it.
A story done by DNA in 2013 indicated that 135 farmers have committed suicide in the last five years in Gujarat due to lack of help from the state government. Magan Patel, president of Gujarat unit of Bharatiya Kisan Sangh (BKS), had insinuated that the figure was just the tip of the iceberg. "The real picture is different and the number of farmers who killed themselves in the state is actually much higher," Patel had said.
In 2005, the height of Sardar Sarovar dam was increased but only industries have benefited from it. Furthermore, many of the victims of the pogrom of 2002 are still living in relief camps, which are in despicable conditions. The infant mortality rate in Gujarat is above the national average and when Modi was asked about the rise in malnourishment of girl child, he replied that girls in Gujarat are conscious of their figure. That was a shocking defence because the girls in question were less than three years of age.
Now we know why Modi ran away from Karan Thapar's interview, stayed silent when Rajdeep Sardesai asked him about 2002 riots, cancelled the recent Newslaundary interview citing a lame excuse and has seldom taken a press conference. In this context, the decision taken by Arvind Kejriwal should not raise eyebrows. After Modi refused to meet him, he showed the audacity to conduct a rally, and questioned the growth model of a state, which has the weakest form of Lokpal Bill. Something that Rahul Gandhi should have done years ago.
However, Kejriwal was welcomed with stones pelted at his car. The instance was not just unbecoming but deplorable. Whether one agrees with Kejriwal or not is not the issue. One cannot deny him the constitutional right to conduct a rally in a state and criticize its Chief Minister. Voltaire once said, "I do not agree with what you have to say, but I'll defend to the death your right to say it".
But this is not the first time someone has been terrorized in Gujarat for trying to chastise Modi. Medha Patkar was attacked twice during the Narmada Bachao Andolan. And never has Modi cared to denounce these undemocratic attacks. Anybody who has read 'The Rise and Fall of Third Reich' would not be surprised if this sort of fascism escalates along with the rise of Narendra Modi. These fascist retorts are merely a dangerous augury. If Modi aspires to become the Prime Minister of the world's largest democracy, the least he should do is imbibe a few democratic values.
At the moment, this seems to be wishful thinking. Manish Sisodia's car too, was attacked not long after Kejriwal criticized Modi. Yogendra Yadav's face was blackened the next day. Some might argue that Modi did not incite these steps but when a player passes a below-the-belt remark about an opponent, the buck stops with his captain.
Nonetheless, It will be interesting to see how long does this madness continue. A party, still in its formative years, has made an established party a bit fidgety. No matter what one believes, a fly has entered the elephant's ear and the elephant is going berserk.
Parth MN, 22, is an aspiring journalist. He tweets @parthpunter