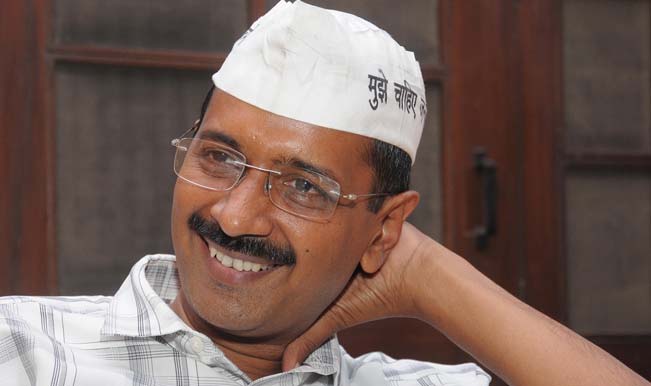 The Indian middle class which supported Aam Aadmi Party (AAP) and its chief Arvind Kejriwal in the Delhi elections were hoping he will be different. At least that is what he claimed. But his off-camera exchange with journalist Punya Prasun Bajpai in the leaked 1.23 second video will shatter the hope of the same middle class and they will really think twice when he seeks their vote in the 2014 Lok Sabha elections.
In the clip Kejriwal can be heard saying that he doesn't want to comment over corporate sector because it will upset the middle class. What follows is even more shocking for the middle class which he always thought was going to support him. He agrees with Bajpai that he has to keep in mind the middle class which is AAP's vote bank. This is quite contrary to what Kejriwal has been claiming from day one.
Bajpai also guides Kejriwal to talk about middle class problems as it will help him get more votes. Later Bajpai also promises Kejriwal that they will promote his comments on Bhagat Singh as it will get good reaction.
The clip exposes intentions of Arvind Kejriwal and also shows how even the media is  helping him manipulate the voters. But this is not the first time that we have heard Kejriwal and his half-truths. Is he not the same guy who before coming to power announced from any available platform that he will not support from either the Congress or the BJP to form the government. But he did form the government and that too with Congress' support.
He also announced that he will not take government accommodation. But barely a week into office he moves application for a flat.
He pretends to be an Aam Aadmi and try to connect with common man by travelling in his car and wearing simple outfits and claiming that he doesn't take any security. But the reality is something else and bitter too. He has accepted Z plus security. There are reports that he had accepted Z plus security a few days before he resigned as Delhi chief minister.
If Arvind Kejriwal is honest enough to work for common man then why is he treating them as vote bank? Is Aam Aadmi Party deceiving the common man? Is Arvind Kejriwal talking about middle class just to get their votes? Probably yes.  The mini clip unveils Kejriwal's real face.