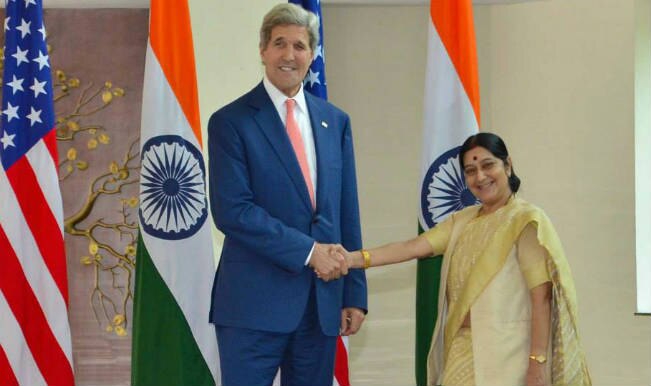 US Secretary of State John Kerry has left Indians surprised with his quotes on Prime Minister Narendra Modi. On Thursday John Kerry told NDTV that Obama government has never denied the Indian Prime Minister Narendra Modi a visa. He said, "It wasn't us who did not give a visa to Modi. We will welcome Prime Minister Modi. Ofcourse he will get a visa, no questions on that. We are going forward, I don't believe in looking backwards in politics." He also said that he is looking for a terrific Barack Obama- Narendra Modi meeting in September.
When asked if the watch of Indian legislatures would continue, Kerry said the US President has been open for discussions all though intelligence issues cannot be let out in public. He also said he is expecting a productive meeting with the India's National Security Advisor Ajit Kumar Doval.
Kerry said, "Obama has taken extraordinary steps to be open and accounatble. We are going to continue to have the best realtionship with India.
He also added that he Indian is sure to get a place in the Nuclear Supply Group as well as the United Nations Security Council. When asked about the India's food security issue, Kerry said US was sympathetic towards the cause and its is open to work with Indian government.
He also spoke about the Gaza-Israel conflict and said that no country can quietly sit and watch the brutality happening in any country. He said it was a terrible situation as Hamas continued their attacks.
He said, "It's a terrible thing when any civilian is killed in any war. And I understand. I've been to war. I know what happened when innocent civilians get killed. It's horrible. Absolutely horrible. And there is nobody in the world who hates the fact that innocent civilians are caught in this crossfire. But unfortunately Hamas has a record of also putting civilians in the harms way purposely as part of an effort."
He also spoke about the atrocious act of bombing schools and said it is not the time to sit back and point fingers at anyone. He said stopping the violenece and finding a permament solution to the crisis is need of the hour.