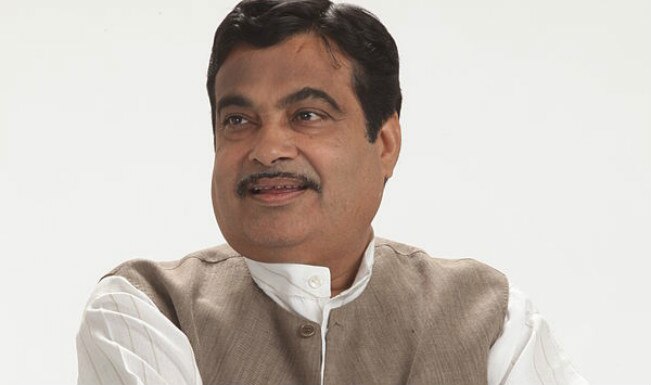 New Delhi, July 17 : Union Transport Minister Nitin Gadkari said here on Thursday that the party has so far not taken any decision to form a government in Delhi. "The appropriate body will take the appropriate decision at the appropriate time. The president and the parliamentary board will decide when to form the government. We are a democratic party. What party's highest body wants is more important not what the MLAs want," said Gadkari.
Criticising Aam Aadmi Party (AAP) chief Arvind Kejriwal over his recent allegation on the Bharatiya Janata Party (BJP) for trying to buy AAP Members of Legislative Assembly (MLAs), Gadkari added that making baseless allegations is their old habit. "AAP should put allegations with evidence and they should tell that who was offered money by whom. Making baseless allegations is their old habit. Before alleging any government or party they should first tell that person's or MLA's name. This is just a publicity stunt, Kejriwal is not able o handle his party. There credibility is reduced to such a level that people are not ready to believe on anything that they say," Gadkari added.
Another BJP leader Nalin Kohli said that both Kejriwal as well as another AAP leader Ashutosh have nothing to do except putting false allegations on people.
"Fabrication, untruth and creating unnecessary controversies and Kejriwal are the two sides of the same coin. Kejriwal should resist from making such kind of wild allegations against anyone and everyone just for his own political mileage and to be relevant in the media," said Kohli. "Ashutosh first needs to be clean him from legal process before raising questions on anyone. The beauty of Indian democracy is that it allows space even to such inconsistent people as Kejriwal and his team," he added.
Earlier today, Kejriwal's tweets against BJP fueled criticism from the party as they accused them of buying MLAs. He had also blamed them for trying to buy AAP's MLAs by bribing and threatening them. Kejriwal had tweeted, "Sources-Despite public outcry, LG likely 2 invite BJP 2 form govt 2day. BJP will accept it……..BJP still does not hv nos. Sources – 6 cong MLAs not yet ready. BJP's assessment – After taking oath, it wud bcome easier to buy MLAs…..
"….Questions – can LG invite a party to form govt without prima facie satisfying himself whether the party has nos? …………..Wud LG encourage horse trading if he invites a party to form govt despite knowing that they don't have nos?………… Shudn't LG first ask for a list of supporting MLAs? Else wudn't LG be seen to be acting partisan?" he further tweeted.
He also tweeted, "If a party (BJP) has once already declined the offer to form govt – can the LG invite the same party in the existing vidhan sabha again ? Can LG afford not to invite BJP? Else, won't he be transferred or removed, as happened to other guvs? Wud LG save his chair or the constitution – nation will keenly watch."
Delhi has been under President's rule since February when Kejriwal resigned from the post of chief minister after his 49-day-old government failed to table its Jan Lokpal Bill in the state assembly. The Assembly has been under suspended animation ever since and no party has staked claim to form the government.
BJP had won 31 seats in the Delhi Assembly polls of December last year but its number has come down to 28 in the 70-member house as three of its MLAs – Harsh Vardhan, Ramesh Bidhuri and Pervesh Verma – were elected to Lok Sabha in the recent general elections.