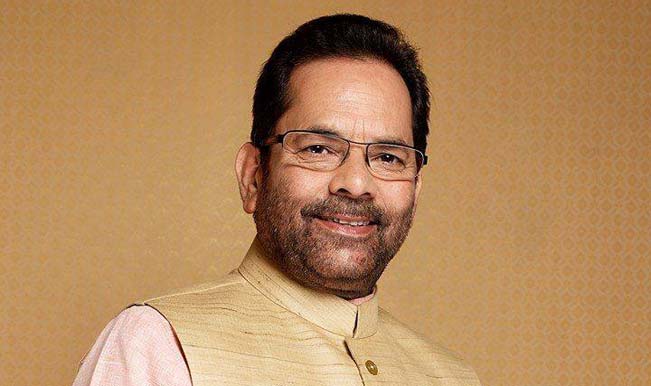 New Delhi, July 17 : The Bharatiya Janata Party (BJP) has reacted strongly to Aam Aadmi Party (AAP) chief Arvind Kejriwal's horse trading charge, with party vice president Mukhtar Abbas Naqvi accusing the latter of making comments out of sheer frustration. "When they got a chance to form a government, they did so, but ran away after 49 days, and staged protests on the road. After ruining Delhi, they have now become fortune tellers and are predicting who will form the next government. I want to ask where is horse trading going on and who all are responsible for it? This is all a result of frustration," said Naqvi.
Naqvi further stated that Kejriwal has been exposed, and added that everything will happen in a constitutional way, and there was no need for him to worry. Another BJP leader, Prabhat Jha, described Kejriwal as so untrustworthy now, that even the media did not trust him. "We have no knowledge of this matter. I don't know what would have the LG told Arvind Kejriwal. Talking rubbish has become his habit. Therefore, how much importance needs to be given to his words needs to be thought upon. That is why what he says and what he does not is not trustworthy, and even the media doesn't trust him," said Jha.
Earlier today, Kejriwal wrote a series of controversial tweets against the BJP, including an accusation that the BJP is buying Members of Legislative Assembly (MLAs) ahead of the upcoming Vidhan Sabha elections. He had also blamed them for trying to buy AAP MLAs by bribing and threatening them. Kejriwal had tweeted, "Sources-Despite public outcry, LG likely 2 invite BJP 2 form govt 2day. BJP will accept it……..BJP still does not hv nos. Sources – 6 cong MLAs not yet ready. BJP's assessment – After taking oath, it wud bcome easier to buy MLAs….."
"….Questions – can LG invite a party to form govt without prima facie satisfying himself whether the party has nos? …………..Wud LG encourage horse trading if he invites a party to form govt despite knowing that they don't have nos?………… Shudn't LG first ask for a list of supporting MLAs? Else wudn't LG be seen to be acting partisan?" he further tweeted.
He also tweeted, "If a party (BJP) has once already declined the offer to form govt – can the LG invite the same party in the existing vidhan sabha again? Can LG afford not to invite BJP? Else, won't he be transferred or removed, as happened to other guvs? Wud LG save his chair or the constitution – nation will keenly watch.