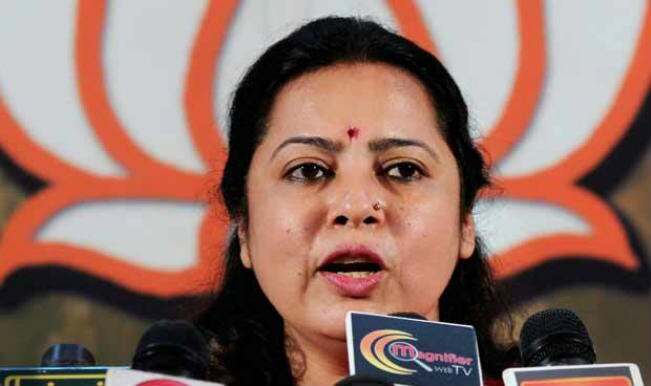 Kolkata, Feb 22: Accusing the Aam Aadmi Party (AAP) of getting funds from foreign sources, the BJP Saturday questioned the source of Rs.19 crore which the Arvind Kejriwal-led party spent for the Delhi assembly elections. Bharatiya Janata Party spokesperson Meenakshi Lekhi also rubbished AAP leader Ashutosh's allegation that BJP has allocated Rs.400 crore for "branding" the party and its prime ministerial candidate Narendra Modi.
"Unlike the AAP, BJP has never got any money from any foreign sources. By AAP's own admission, it has spent Rs.19 crore on Delhi polls. So before questioning the BJP and making wild allegations, it should answer the countrymen about the sources from where it got the huge amount," Lekhi told media persons here.
"While they have been questioning the funding of other parties, we want to know why did the Election Commission send a notice to them for discrepancy in their poll expenses," she asked. Lekhi also lambasted Kejriwal who Friday wrote to Modi asking him to come clean on the issue of gas pricing involving industrialist Mukesh Ambani.
"Kejriwal is all about loot and scoot and is more concerned about saving the Congress by making wild allegations. If he is so much concerned, the why hasn't he become a party to petitions filed before the Supreme Court questioning the government's decision?" she asked.
Though she refused give an opinion on Anna Hazare professing to canvass for West Bengal Chief Minister Mamata Banerjee and her Trinamool Congress, the BJP leader hoped the social activist was not "wrongly used" to derive political mileage.
"We have seen how Hazare was wrongly used by some people to grab power, and that wrong use by any political party of a social figure should not happen," said Lekhi. She also justified her party supporting the creation of Telangana.
"Telangana is not a result of regional aspirations, rather it has been necessitated from administrative point of view. The need has emancipated from the long deprivation which the region has been long subjected to," said Lekhi adding that the demand of a separate Gorkhaland was not identical to the Telangana demand. IANS