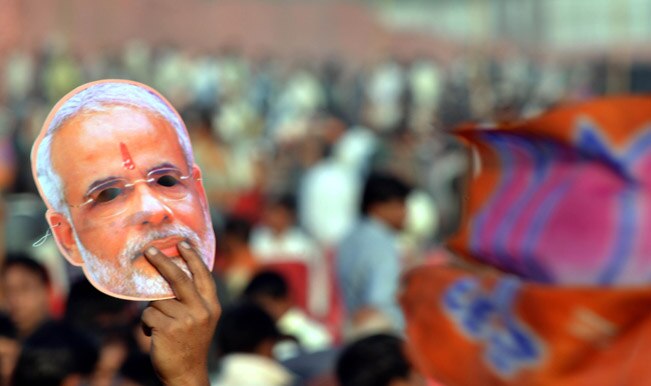 New Delhi, Feb 23: The BJP-led NDA is likely to bag 236 seats with the main party getting 217 seats in the Lok Sabha elections. The Congress will be reduced to double-digits at 73 of the 92 seats projected for the UPA, while the Aam Aadmi Party is likely to get 10 seats, a survey said Saturday.
While the Left parties are projected to get 29 seats, others are likely to collect 186 seats, according to the ABP News-Nielsen opinion poll conducted in 129 constituencies with 29,252 respondents during Feb 4-15. The projection said Bharatiya Janata Party's prime ministerial candidate Narendra Modi was the most preferred face with 57 percent of respondents backing him.
Just 18 per cent backed Rahul Gandhi, while Arvind Kejriwal was a distant third with just 3 per cent backing. The projected BJP tally has increased by 10 seats compared to the opinion poll conducted in January by ABP News-Nielsen. The National Democratic Alliance (NDA) is predicted to get a vote share of 46 percent from western India and around 38 percent vote share in northern India.
Break-up of the projected seats is NDA 236, United Progressive Alliance (UPA) 92, Left 29 and others 186.
Among the regional parties, the projection of seats is AIADMK 19, Trinamool Congress 29, Biju Janata Dal (BJD) 16, Bahujan Samaj Party (BSP) 13, Communist Party of India-Marxist (CPI-M) 18, CPI 7, DMK 13, and Janata Dal-United (JD-U) 9.
According to the opinion poll, 46 percent of respondents said price rise/inflation affects their day to day lives the most, while 34 percent identified corruption as the biggest problem and 18 percent felt unemployment was a major issue. It said the BJP was likely to get around 80 seats of the 88 seats projected for the NDA in northern India.
The AAP was likely to get 9 seats and Congress 17 seats of the 23 projected for the UPA. Other parties were likely to get 40 seats. There are 151 seats in northern India. In western India, the BJP is projected to get 79 seats of the 88 likely to go to the NDA. The Congress was likely to get 15 seats of the 22 projected for the UPA and AAP was likely to get only one seat. Six seats will go to others. States in western India together have 116 seats.
The opinion poll said the UPA would lead marginally with 26 seats in southern India. The Congress was to get 23 of the 26 seats projected for the UPA. The BJP was likely to get 20 seats of the 21 projected for the NDA in southern states. The Left was likely to get 15 seats while others would get 72 seats. The southern states have a total of 134 seats.
In eastern India, the opinion poll said the NDA would lead with 39 seats, with BJP likely to get 38 seats. The Congress was predicted to get 18 seats of the 21 projected for the UPA, the Left was likely to get 14 seats and others would get 68. Eastern India has 142 seats. IANS