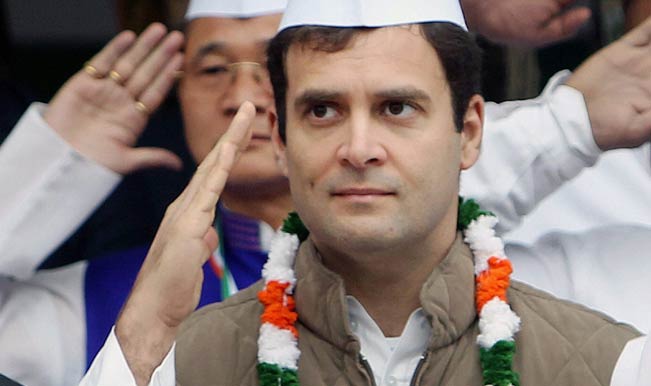 New Delhi, Mar 17:  BJP reacted angrily to Rahul Gandhi's remarks on Narendra Modi's alleged role in 2002 riots, accusing him of raising the "old bogey" as he has no answers to the "failures" of the Congress-led UPA government.
Responding to remarks made by Rahul to PTI in an exclusive interview, the party also said that the Congress vice president was "day-dreaming" that his party would get back to power and claimed his "bravado" will have little effect on a "demoralised" cadre.
BJP spokesperson Nirmala Sitharaman said Rahul's remarks terming the SIT report that gave clean chit to Modi as "flawed" though it was accepted by the court was "shocking" and showed how the Congress party "does not respect any institution".
In his sharpest attack on Modi over the post-Godhra riots, Rahul, during his interview, dismissed BJP's contention that Modi had been given a clean chit by the Supreme Court-appointed SIT and the courts, saying such talk was "politically expedient" but "far too premature". "As you know, the SIT report had been seriously questioned by a number of credible experts. Grave flaws have been pointed out in the functioning of the SIT. The acceptance of the flawed SIT report by the lowest court has not yet been subjected to judicial scrutiny by higher courts," he said.
BJP leader Ravi Shankar Prasad said the 2014 election issues are rising inflation, economic downturn, growth story over, unemployment, corruption, general sense of insecurity of India. "These are issues on which Rahul Gandhi has no answers. Therefore, he is deliberately, consciously trying to divert and raise old bogey (of 2002 Gujarat riots), when the entire record of Congress party stinks with communal card reputation," he said.
He said though Rahul is entitled to live in his "fairy tale land" that the UPA will come to power the third time, but knows it in the heart of his heart that the people of the country are "badly yearning" for a change. He said the entire SIT was constituted by the Supreme Court as it picked up the personnel including the officers with impeccable integrity, "who examined, investigated, reinvestigated even Narendra Modi and came to the conclusion that allegations against him were absolutely untenable and without evidence."
Prasad said in terms of the court procedure, the court has accepted the SIT report. "Which collusive legal advice he is talking about? If the Supreme Court accepted the SIT investigations in fairness, transparency and integrity. Either Mr Rahul Gandhi does not read or his speech writers don't do the homework," he said.
"There is anger against Congress across the country…. One should understand because of its anti-people policies, retrograde economic policies, Congress party has failed the nation and it has betrayed the confidence of the people so that party is on its way out," the BJP leader stated.  On Rahul's remarks against Modi, Prasad said, the Congress leader has raised it for purely political purposes and "he is trying to take liberties" even with the judicial process.
BJP spokesperson Prakash Javadekar said Rahul's bravado in asserting that there will be a UPA-3 "is a failed moral booster for a demoralised force. Congress leaders and workers know the writing on the wall. "So Rahul Gandhi may show any bravado, but it is of no use as country has already decided to throw the Congress out of power log, stock and barrel and bring a decisive mandate to the NDA led by Narendra Modi."
Javadekar said people and even Muslims and every section of society have moved much ahead of 2002. "We never justify riots. We used force to quell the riots but the Congress justified the 1984 pogrom and Congress did not use force against those who perpetrated the pogrom." Javadekar said in such a position, Congressmen have already started blaming Prime Minister Manmohan Singh for certain defeat and said what P C Cahcko said yesterday is noteworthy and important.
"Because there is a division in Congress. When there is victory, it is Sonia Ji's and Rahul ji's. When it is defeat, it is somebody else's," he said, adding that, "this time Congress has decided to blame and single out prime minister for this."
Prasad said,"Rahul Gandhi is equally responsible and accountable for price rise, for stinking corruption, for rising unemployment and great sense of disappointment and diffidence that the UPA has unleashed in the country."
On his remarks against Modi, he said, Rahul has raised it for purely political purposes and "he is trying to take liberties" even with the judicial process.
On Rahul's claims of forming UPA-3, Prasad said "We all know for sure that in this government does nothing without the approval of Sonia Gandhi and Rahul Gandhi. "He cannot escape his own liability. He cannot insulate from his own accountability. He knows that even leaders like Chidambaram and Chacko all are now saying that we have a bad time ahead, if Rahul Gandhi is way to day-dream, good luck to him."
Another BJP spokesperson Nirmala Sitharaman said while the Congress continues to raise the 2002 riots even after the clean chit by the court, they do not talk about the 1984 riots where thousands of innocent Sikhs were killed.
Hitting out at Modi, Gandhi in an interview to PTI demanded "legal accountability" for the "clear and inexcusable failure" of governance during the 2002 Gujarat riots and dismissed talk of clean chit to him as "politically expedient" but "far too premature".
Sitharaman said the language of the Congress vice president was "almost contempt of court". "I am really shocked that the vice president of the Congress has spoken in a language, which to me verges almost on the contempt of court," she said.
Meanwhile, Samajwadi Party also attacked Gandhi, saying the UPA government was equally responsible if full probe was not done. "If Rahul Gandhi is saying that full investigation has not been done, then the Government was his, CBI was his, SIT was his, so UPA government is equally responsible," party spokesperson Naresh Agarwal said. He alleged that Modi is still an accused of 2002 riots in the eyes of the people.