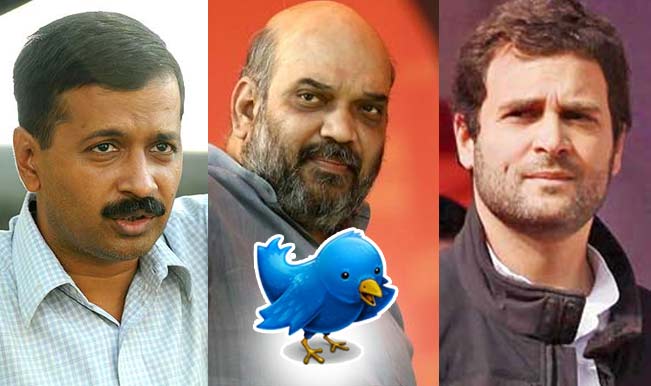 With political activities heating up in Delhi for and against the formation of the government, it had its resonance on the micro-blogging site Twitter too. Aam Aadmi Party (AAP), Congress and Bharatiya Janata Party (BJP) loyalists joustled on the micro-blogging site while political commentators offered advice and words of wisdom.
Aam Aadmi Party leader and former Delhi chief minister Arvind Kejriwal, who has exploited Twitter to the hilt and used it to advocate his cause, remained active giving a blow by blow account of the political developments and the possible fallouts. Having no say or control on the developments, Kejriwal questioned the propriety of the BJP's move to form the government.
"If a party (BJP) has once already declined the offer to form govt – can the LG invite the same party in the existing vidhan sabha again?" he tweeted.
Frustration and a feeling of having already lost the battle was written in bold letters on his tweets. "Wud LG save his chair or the constitution – nation will keenly watch". Kejriwal's sense of despondency and defeat was shared by journalist-turned-AAP leader Ashutosh, who tweeted saying, "12.12.13 BJP said it would sit in opposition on principles and morality. Has BJP led by Modi become immoral?Y it is hell bent to form govt?"
While some like @DrGarekar offered the quid pro quo between the Congress and the BJP on government formation, "Here is #NewDeal..#congress will get #LOP in #LokSabha & #CongressMLA will support #BJP in forming #DelhiGovt..", some tweeted that such an experiment was sure to fail.
@Shr_Dixit "@TodaysChanakya what are your predictions for the next #DelhiGovt ? How many hours will it survive given the #mediahype?"
Mirroring the resounding defeat Kejriwal and his party suffered in the 2014 General Elections, Twitterati seemed to be skeptical of AAP leader's allegations and were critical of his motives. While @NainaTan tweeted, "Why are you so confused, Mr. Kejriwal?" @shashankjos was dismissive of the AAP leader. "@ArvindKejriwal Delhi people gave you chance & you wasted it with both hands. now you dont have any right to speak anything on #DelhiGovt..", he tweeted.
Some found humor in the entire government formation and used it with full force to lampoon Kejriwal. Like @kapsology, who advised Kejriwal that "If BJP is buying out Congress MLAs, it shd be called #DonkeyTrading, not #HorseTrading", ‏@ranadeepaksingh took on the bureaucrat-turned-politician with rude comments like, "How can anyone trade for Horses from your party that has got only donkeys?"