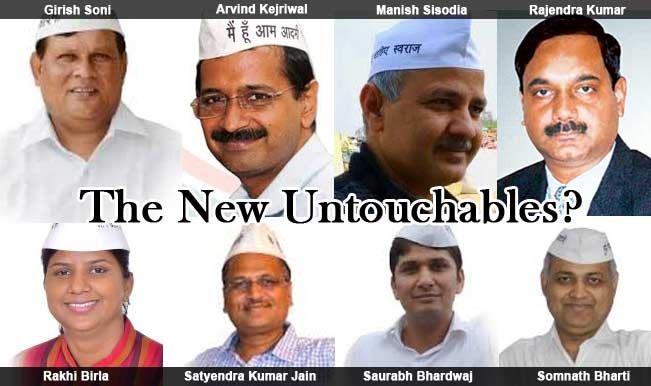 As Arvind Kejriwal gets set to wear the CM's hat in Delhi, it's worthwhile to note that his situation is remarkably similar to the situation Elliot Ness – a law enforcement officer – faced in the cult classic Prohibition-era inspired Hollywood movie The Untouchables.  Starring Kevin Costner playing real-life law enforcement officer Elliot Ness, the movie was based in Al Capone's (played magnificently by Robert De Niro) Chicago and dealt with a group of law enforcement officers who were dubbed 'The Untouchables' because they couldn't be corrupted.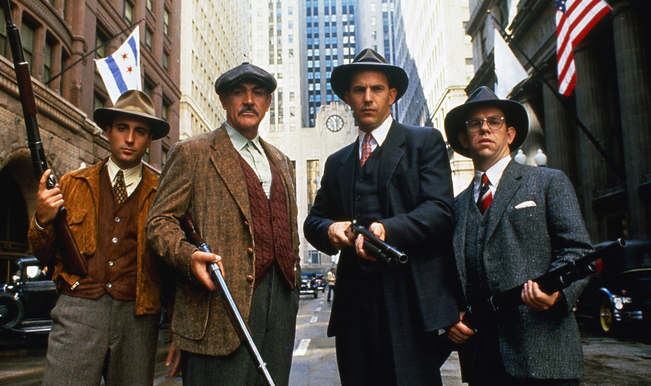 Kejriwal and his team find themselves in similar predicament since they've been waging the anti-corruption battle and any hint of venality would simply destroy the house of cards that is the Delhi government. For the first time ever, sick of arrogant politicians, the people of Delhi have voted in the hope that they will get a government that will deliver. However, any hint of corruption would destroy the belief that people have placed on Kejriwal and his party. So who are going to be Arvind Kejriwal's untouchables?
Here's the complete list of New Delhi's new ministers:
Manish Sisodia
A former journalist who worked at Zee News and All India Radio, Manish Sisodia has known Kejriwal for a long time. He played a key role in getting the RTI Act passed and was also part of the Jan Lokpal Movement and spent time in jail for his efforts. He beat BJP's Nakul Bhardwaj in Pataparganj and is a vital cog in the Aam Aadmi Party.
Rakhi Birla
Born in 1987, Rakhi is one of the youngest members of AAP and worked as a journalist before she made the switch to politics. Her father was associated with the Congress but quit in 2011 during the Jan Lokpal movement. She beat BJP's Raj Kumar Chauhan in the Mangolpuri constituency.
Somnath Bharti
He is a lawyer who also has a Masters in Science Degree from IIT-Delhi. He is also the current president of the IIT-Delhi alumni association and was quite a giant-killer in the elections beating BJP's Arti Mehra and Congress' Kiran Walia in Malviya Nagar.
Saurabh Bhardwaj
The 34-year-old has a B.Tech from Indraprastha Universtiy and also studied law at Osmania University. Born and raised in Delhi, he won in the Greater Kailash constituency.
Girish Soni
The leather goods businessman has been associated with Kerjiwal since the 'India against Corruption' days and narrowly beat BJP's Kailash Sankla by 1,103 votes in the Mandipur constituency. He is one of the few AAP members not have to have college degrees and only studied up to Class 12 from the Senior Secondary School in Mandipur.
Satyendra Kumar Jain
Satyendra Kumar Jain was an architect who got fed up with corruption and joined the Jan Lokpal movement. He has also been active in social causes and was associated with Sparsh, an NGO that works for mentally challenged children.
Along with them, Arvind Kejriwal has named former IAS officer Rajendra Kumar as his Principal Secretary.
Principal Secretary: Rajendra Kumar
Along with them, Arvind Kejriwal has mentioned that he will pick Rajendra Kumar, 1989-batch IAS officer to be his Principal Secretary. Like Kejriwal, he is an alumnus of IIT-Kharagpur and has ruffled many feathers in his days as bureaucrat.
The one who didn't make it: Vinod Kumar Binny
Vinod Kumar Binny, an AAP MLA from Laxmi Nagar was tipped to be part of the cabinet but wasn't selected. A former Congress worker he left the party during the Jan Lokpal movement. While he has said that he is no rift between him and the party, earlier on he had promised to hold a press conference that would embarrass the party.
So are they going to be incorruptible or will they succumb to the lure of power? We'll have to wait and see.