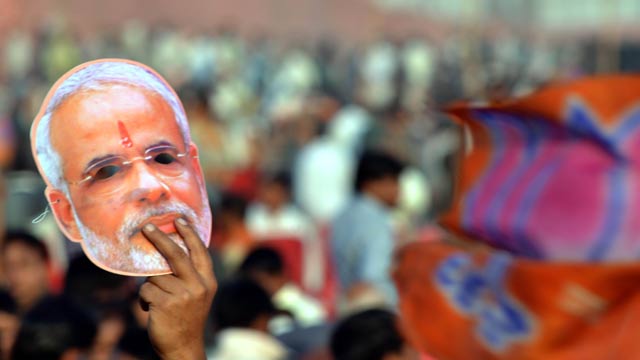 Narendra Modi, prime ministerial candidate of Bhartiya Janta Party (BJP) is a personality who has been trending since years on different platforms like social media. Recently, he has been named the most searched chief minister of India on Google. With his growing popularity people also wants to know each and everything about him. To speak about early life of Narendra Modi in a story style a comic book called "Childhood stories-Bal Narendra" will soon be in market.
The 43-page book has been published by Rannade Prakashan and designed by Blue Snail Animation. The book shows little Narendra reading books on Swami Vivekanand and Chhatrapati Shivaji in his village Vadanagar's library when his friends are playing outside. He is shown playing with baby crocodile and the book also show his bravery when he swims through a croc-infested lake to hoist the flag atop a temple.
The comic book presents little Narendra cleaning his house, washing his cloths and helping his mother with chores. As Narendra Modi says himself a tea seller, the book also shown him serving food and tea to soldiers headed for the border during the Indo-China war. His father who is widely known for his tea stall is shown running tea stall at Mehsana railway station.
Talking about his leadership quality and popularity the book tells incident of a Kabaddi match where he observes the style and techniques of senior players and inspires junior players to score an unbelievable victory. He takes part in a fund-raiser theatrical play "Jogidas Khumaan" and bu this he helps to repair the school building.
Narendra Modi always seems in a adequate outfit and well groomed. The book claims he used to do it in his childhood too. According to the book his uncle gifted him a piece of chalk which he uses as a whitener on canvas shoes. He always takes care of his clothes. He folds his school uniform and puts under his pillow and irons them next morning.
The book ends on a play "Pilu Ful" written by him to create awareness about the evil of untouchability. Overall the book tells you several stories from Narendra Modi's childhood while unveiling his qualities. The book has been compiled by a team of 40 illustrators after months of research. The book will be available in Hindi, Gujarati and English and will cost Rs. 150.