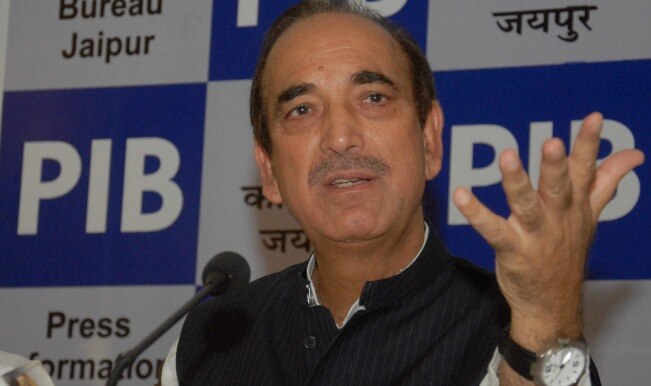 Jammu (Jammu and Kashmir), July 20 : Congress leader and Leader of opposition in Rajya Sabha,Ghulam Nabi Azad on Sunday, expressed concern over the unfortunate incidents of ceasefire violation from across the border from Pakistan, but also took potshots against the Centre. "The firing that is going on for the last few days is a cause of concern and it is very unfortunate," Azad said.
"But it is even more unfortunate that during electioneering, Modi did campaigning for six months, wherein he had blamed the UPA on two reasons that of inflation and termed it as weak. But it is another thing that during his one month tenure there has been two-fold price increase in commodities. In the second charge that he leveled against us, under his (Modi) tenure 25 ceasefire violations have taken place, jawans are getting killed, people near the border are losing their livestocks, their houses and land are getting damaged ,"Azad added.
Earlier today, Pakistani troops again resorted to violate ceasefire by firing on an outpost along the international border in RS Pura sector of Jammu district. The firing started at around 1:00 am in the night and lasted till morning 5:30 am. Reportedly, heavy firing took place at border villages including Gharna, Sai, Kaku De Kothey and Pindi villages. Due to landing of some mortar shells in the residential areas some animals died and some were left injured as well.
Pakistan had targeted an Indian post in the same area on July 16 as well wherein an Indian soldier died and three others were injured. The residents living along Indo-Pak Line of Control (LoC) in Jammu and Kashmir had complained of facing hardships due to cross border shelling earlier also.