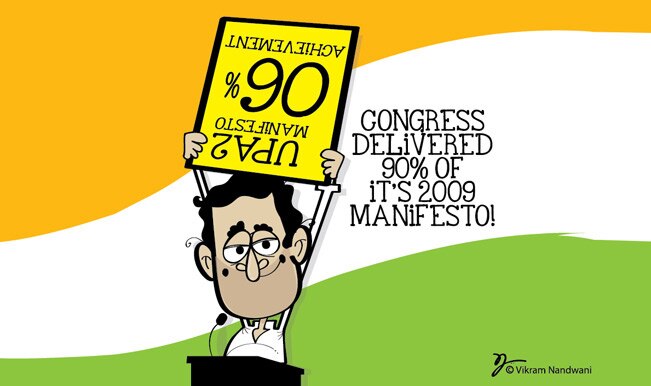 The Congress Party today released its party manifesto and it sure isn't trying to win the 2014 elections it seems. The manifesto a continuation of the Congress party's left ideology promises much of what they promised in 2009 and leaves a lot to be desired.
The manifesto talked a lot about "Right" and "rights", in 2009, those words were mentioned a mere 16 times, in 2014 that number has swelled to 59! Similarly, the manifesto document talks a lot about development, ensure, right and act.
Similarly with regard to jobs, the manifesto claimed it would within 100 days of coming to power announce a plan to create 10 crore jobs. This sounds ridiculous, the party has no clue how to create those jobs, it had none over the last 3 years and to try and make us believe it would change that is incredulous.
Quite simply, the manifesto is a repackaging of old ideas. It again talks of spending huge sums of taxpayer money for healthcare for all, homes for all and has no talk about liberal economic reforms that this country sorely needs. There is also no talk of reforming laws that impede manufacturing sector growth or reforms in any of the other service sectors.
While Rahul Gandhi has also promised to spend over USD 1 trillion in infrastructure development over their next term if elected, most Indians would know that when the Congress plans to spend large sums of money, there's a good chance that money will never be actually spent for the people.
The only silver lining in the manifesto was that it didn't promise reservations for SC/ST's  in the private sector as was rumoured to be the case. That would probably have been the final nail in the coffin.
Illustration by Vikram Nandwani