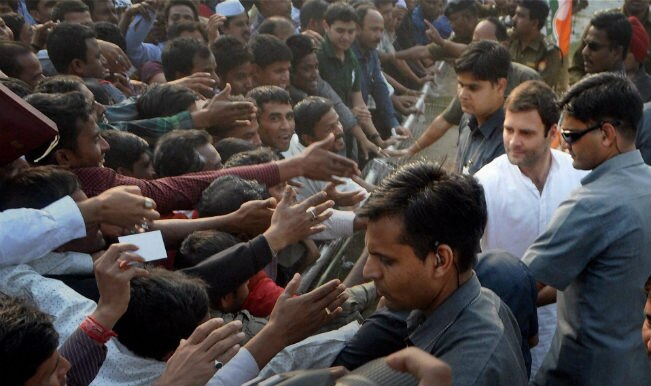 Guwahati, Feb 25: Congress vice president Rahul Gandhi today said there is a need to change the Congress party and the first step in this direction was to make the selection of candidates seeking party ticket from among the people.
"There is a need to change the party and we will do it fast. The first step in this direction is to make the selection of candidates from among the people. The process has begun," Gandhi said at a rally at the Assam Veterinary Field here.
"We have initiated selection of candidates through primaries in some constituencies of the country with Guwahati being one of them. Soon the process will be extended to more and more constituencies," he said.
"In future, I want all candidates of the party to be elected through elections. Anybody can aspire to contest the elections within the party and so people from all sections can be part of the selection process," Gandhi said.
Earlier in the day, Gandhi said he was not in favour of family members of politicians getting party tickets to contest polls.
"I am not in favour of giving tickets to family members of Congress leaders and want to change this trend," he said during an interaction with representatives of nine Autonomous Councils at the Karbi Anglong Sports Association stadium at Diphu. People should elect their own representatives, he said adding he had already started the process in this direction.
In Guwahati, he said that the party also needed to give more power to the people, particularly to women. "I want to empower women. Here at the rally, I am seeing more men than women but in future, I want to see more or equal women in future. In the next five years, we will strive for 50 per cent representation for women in Parliament and all assemblies," he added.
He also said that he did not want power; power should be given to people to do development work. There were two types of leaders: one who gave power to people and the other wanted power from the people. PTI